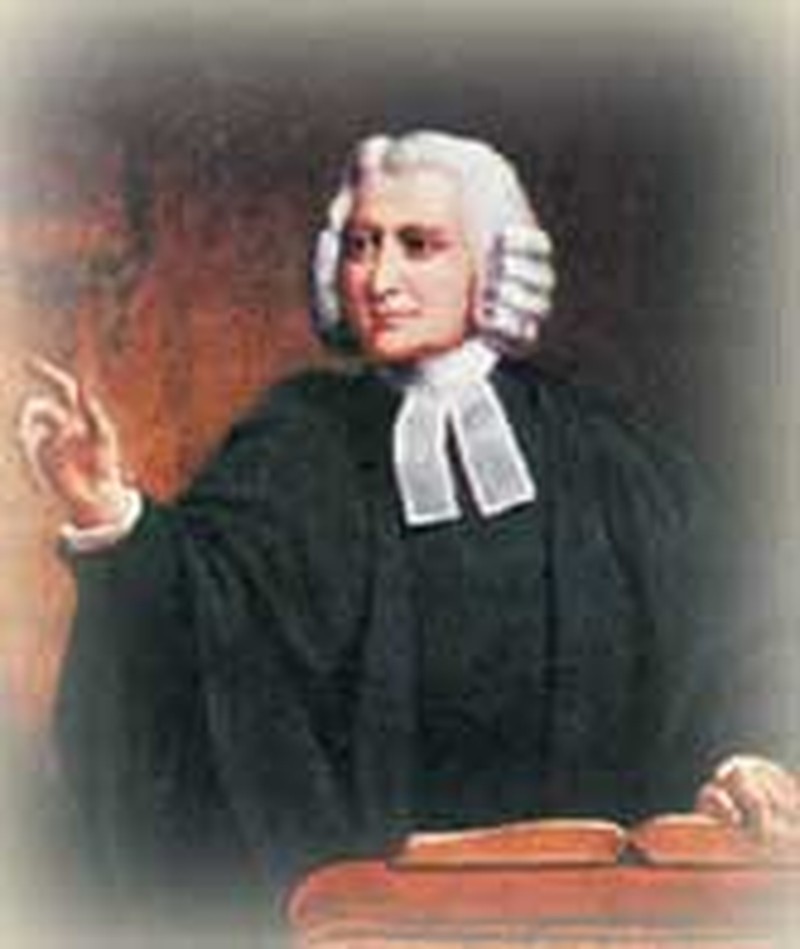 Charles and John Wesley longed for a deeper walk with God. With some other men at Oxford, including George Whitefield, they formed a "Holy Club." Through rigorous spiritual exercises, they sought peace.
Charles was ordained in 1735. With his brother John, he labored for Christ, seeking to win souls in Georgia. Ill health forced Charles to return to England after only a year in the New World. Something seemed lacking in his life. The work he had done was not fruitful. He was unable to escape a sense of emptiness. Inside he felt hollow.
Sick with pleurisy, Charles lay upon a bed at the home of Thomas Bray, a Christian brazier. Charles felt that what he needed was the witness of the Holy Spirit and began to pray for him to come. On Pentecost Sunday, this day, May 21, 1738, Charles woke up, hoping that this would be the day. John and some friends came to him and sang a hymn to the Holy Spirit. This increased Charles' hopefulness and when they had left, he began to pray, reminding Christ of his promises to send a comforter. He cast himself solely on Christ in reliance of his promise to be sent at his time and hour.
As he lay back to rest, he heard a friend's voice saying, "In the name of Jesus of Nazareth, arise, and believe, and thou shalt be healed of all thine infirmities." Charles lay still, hardly daring to hope, his heart palpitating, but he murmured, "I believe, I believe." In his journal he credits that day as the day he received the witness of the Holy Spirit.
His brother John was converted a few days later. Afterward, John traveled about teaching and organizing renewal groups within the Church of England. These were known as Methodists. Although still connected with the Church of England, these groups usually met separately. Their worship services differed, too, for whereas the Church of England sang mostly psalms, the Methodist groups sang hymns. Most of those hymns were penned by Charles. Some of his well known songs include "And Can it Be that I Should Gain," "Arise, My Soul, Arise," "A Charge to Keep Have I," "Hark, The Herald Angels Sing," and "Depth of Mercy, Can There Be... ." Many others of his verses have also blessed the church.
A year after his conversion, Charles Wesley commemorated the event by writing what is possibly his best known hymn:
Oh, for a thousand tongues to sing
My great Redeemer's praise;
The glories of my God and king
The triumphs of his grace.
Bibliography:
Dallimore, Arnold A. A Heart Set Free. Westchester, Illinois: Crossway Books, 1988.
Marston, Leslie R. and others. Living Hymns of Charles Wesley. Winona Lake, Indiana: Lloyd H. Knox, 1957.
Routley, Erik. Hymns and the Faith. Greenwich, Connecticut: Seabury Press, 1956.
Tyson, John R., Editor. Charles Wesley; a reader. Oxford University Press, 1989.
Wakeley, J. B. Anecdotes of the Wesleys, illustrative of their character and personal history. New York: Carlton & Lanahan; Cincinnati: Hitchcock & Walden, 1869.
Wells, Amos R. A Treasure of Hymns; Brief biographies of 120 leading hymn- writers and Their best hymns. Boston: W. A. Wilde company, 1945.
"Wesley, Charles." Dictionary of National Biography. Edited by Leslie Stephen and Sidney Lee. London: Oxford University Press, 1921 - 1996.
"Wesley, Charles." The Oxford Dictionary of the Christian Church. Edited by F. L. Cross and E. A. Livingstone. Oxford, 1997.
Last updated April, 2007.