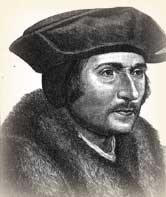 Sir Thomas More, an English genius of letters, wrote his last note using a piece of charcoal on this day, July 5, 1535. Days earlier he had been sentenced to be hung and disemboweled, but Henry VIII had changed the sentence to beheading. The letter More wrote was to his beloved daughter, Margaret. Because the next day was Eve of St. Thomas, he wrote, "Therefore tomorrow long I to go to God: it were a day very meet and convenient for me."
Why must he "go to God"? As a young man, More showed the brilliance that leads to eminence. He wrote memorable works, such as a biography of Richard III and his famous Utopia, in which he called for reason to master human affairs. The title of this book also entered the English language as a word.
From 1518 onward, Henry VIII employed More in his service. For twelve years the humanist rose steadily. He was made Undersecretary of the Treasury, Speaker of Parliament, and High Steward of both Oxford and Cambridge. He even became Lord Chancellor. A loyal Catholic, More wrote and acted against the reformers. He opposed Tyndale's attempts to put the Bible into the English language. As Lord Chancellor he applied force against "heretics." His loyalty to the church was bound to bring him afoul of Henry when the king proclaimed himself head of the English church. Other clergy made complete submission. More resigned his post, pleading sickness. Robert Bolt's movie, A Man for All Seasons, takes up the story at this point.
Sir Thomas More, so well-known abroad, must submit to Henry or the king could not rest easy. Every effort was made to trap the wary and scrupulous lawyer, but More could not be bribed and kept close control of his tongue. On April 17, 1534 he was consigned to the Tower of London. At first he was allowed books and visits, but later these were withdrawn.
Meanwhile, More refused to reveal what he thought. He was determined that none could condemn him for anything he said. He forced his opponents to condemn him for refusing to speak. Sir Richard Rich played Judas, perjuring himself. On July 1st More was convicted of treason. With nothing left to lose, he then declared his opposition to the king's action. Afterward he wrote a prayer for the salvation of his enemies and pled for courage. "Good Lord, give me the grace, in all my fear and agony, to have recourse to that great fear and wonderful agony that Thou, my sweet Savior, hadst at the Mount of Olivet..."
Along with the charcoal letter, Sir Thomas sent Margaret his hair shirt. He was granted his wish to die the next day. On the morning of July 6, 1535, he was told to make ready. He joked with the executioner and proclaimed himself the King's good servant, "but God's first." At 9 A.M. he was beheaded. After his bloody death, his head was exhibited on London bridge. In 1886 Leo XIII beatified More and in 1935 Pius XI canonized the English martyr.
Bibliography:
Bezold. Geschichte der Deutschen Reformation. Berlin: Derlagsbuchhandlung, 1890. Source of the portrait.
Bolt, Robert. A Man for All Seasons (Video and written versions).
Chambers, Raymond Wilson. Thomas More. University of Michigan Press, 1958.
Daniell, David. William Tyndale: a biography. New Haven: Yale University Press, 1994.
Hudleston, G. Roger. "More, Thomas, St." The Catholic Encyclopedia. New York: Robert Appleton, 1914.
"More, Thomas." Dictionary of National Biography. Edited by Leslie Stephen and Sidney Lee. London: Oxford University Press, 1921 - 1996.
Mozley, J. F. William Tyndale. London, Society for Promoting Christian Knowledge; New York, The Macmillan company, 1937.
Last updated April, 2007.