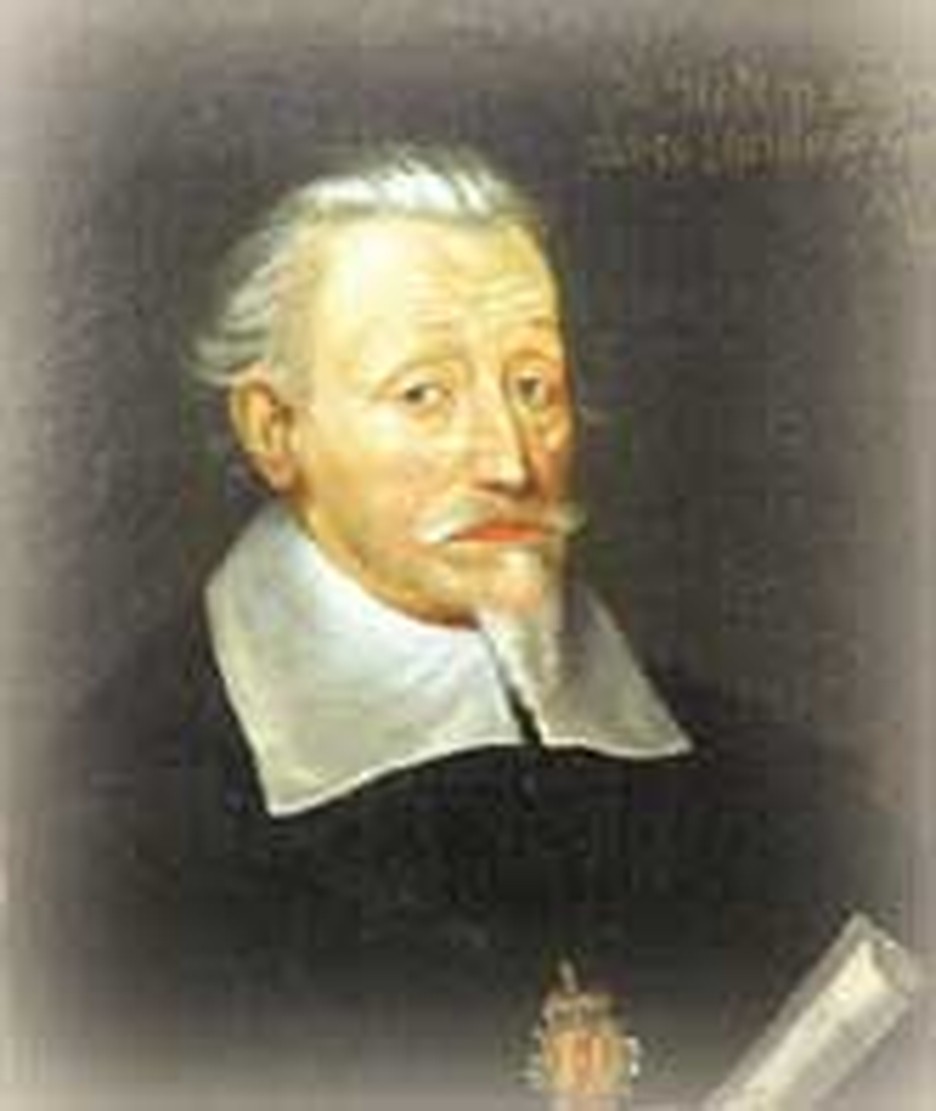 Martin Luther, the best-known Protestant reformer, wanted the German language to be the language of German religious life. That is one reason he translated the Bible into it. On this day, October 8, 1585, thirty-nine years after Luther's death, Heinrich Schutz was born. Luther would have been proud of what Heinrich accomplished. The greatest Protestant German composer before Bach, most of what Schutz wrote was religious and much of it was in German.
Heinrich showed real musical talent as a young man. Landgrave (Count) Moritz was so impressed with him, he made him a choirboy at Kassel where he studied music under the court choirmaster. Despite this favor, Heinrich entered the University of Marburg to learn law. Moritz thought it a pity to waste such musical talent and urged the twenty-four year old Heinrich to go to Venice where he could study under one of Italy's greatest composers, Giovanni Gabrielli. Moritz even promised to foot the bill. Heinrich spent three years with the Venetian master.
He returned to Kassel in 1613, but was unable to pay Landgrave Moritz back in service as fully as he would have liked, because Elector John George I forced Moritz to send Heinrich to him. While serving in this elector's court, Heinrich Schutz wrote his first world-renowned composition, David's Psalms. The text was from the German Bible.
When the terrible Thirty Years War broke out, Heinrich returned to Italy. This time he studied under Monteverdi, famous as the originator of the modern opera and an innovator in religious music, too. Heinrich wrote not only the first mass set to German words but its first opera, Dafne.
Heinrich's church music wasn't dull or stodgy. Using ideas from Italian choral music, he made his religious works more dramatic than anything that had been done before him in Germany. Later, Johann Sebastian Bach, one of the most famous composers of all history, borrowed and improved on Heinrich's methods.
The elector was not always a good employer. Heinrich pleaded to be allowed to leave his court. For many years he worked in Denmark. However, the elector refused to free Heinrich. The composer wrote many works. He wrote motets (short choral compositions with Bible texts) and several sets of what he called Sacred Symphonies. In these he gave the choir's voices and the instruments equal treatment. Heinrich also wrote a Christmas Oratorio. Late in life, he set more psalms to music and composed a cappella versions of the stories of Christ's trial, death and resurrection as told in the gospels of Matthew, Luke and John. In many of these works, he found ways to emphasize the meaning of the Bible text for the greatest understanding.
In his preface to the Psalms of David, he said, "...instead of rests, I have used a comma after each verse, because in this kind of composition, the rests are not strictly observed, and such arias and melodies can be sung with more grace when they follow the meaning of the words."
Recommended
He concluded his preface humbly: "Finally, dear readers, if my labor pleases you, may you use it to praise God the All-highest; but if one or the other tune displease you, then use, instead, the old, familiar melodies which you will find listed in the index of this book, or else try to help others compose better melodies and publish them to the greater glory of God."
Bibliography:
"Duns, Joannes Scotus." Dictionary of National Biography. Edited by Leslie Stephen and Sidney Lee. London: Oxford University Press, 1921 - 1996.
"Heinrich Schutz." Encyclopedia Americana. 1956.
"Heinrich Schutz." Encyclopedia Britannica. 1967.
"Heinrich Schutz" (1585-1672) at Before Bach there Was: http://www.geocities.com/Vienna/1667/schutz.htm
Morgenstern, Sam. Composers on Music. New York: Pantheon, 1956.
Sadie, Stanley, editor. The Grove Concise Dictionary of Music. Macmillan Press Ltd., London.
Various internet articles.
Last updated June, 2007.