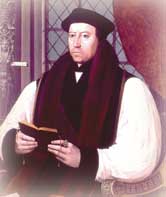 When Thomas Cranmer learned he had been named Archbishop of Canterbury by King Henry VIII, he balked. Visiting Germany at the time to promote the King's interest in a divorce, he dawdled seven weeks getting back to England. Although the King's word was law, Cranmer hesitated to accept the position.
The English church was in a turmoil over the question of Henry's desired divorce from Catherine. Having presented him with no male heir, the queen, once so charming to Henry, was now repugnant. Yet he could not get the Pope to agree to an annulment.
Cranmer had come to the King's attention when, in conversation with two of Henry's men, he had suggested that the universities could just as well settle the question as the Pope. Henry swore Cranmer had "the right sow by the ear." He earmarked the priest to become Archbishop of Canterbury, England's highest religious post. Cranmer was consecrated on this date, March 30, 1533.
Believing himself subject to the King, Cranmer promptly granted Henry the annulment. Throughout his tenure as archbishop, he would do pretty much whatever the King commanded. Henry's continual shifts of policy often made Cranmer appear wishy-washy. For example, he ruled Henry's marriage to Anne of Cleve lawful and six months later annulled it as unlawful.
Already leaning toward Protestantism, Cranmer became the chief architect of the English Reformation. He urged the King to place Bibles in England's churches and it was done. He wrote the first Book of Common Prayer. In only a few things did he resist Henry. At some jeopardy to himself, he pleaded for the lives of Thomas More and Bishop Fisher and testified for three days against Henry's Six Articles which went back to Roman Catholic forms. However, he sat with the persecutors of John Frith and Joan of Kent, both of whom were executed by fire.
By his twisting and turning, Cranmer escaped execution under Henry. Henry trusted him above all his other prelates and on his deathbed clung to Cranmer's hand. Under Edward, Cranmer advanced Protestantism, helping draft doctrines which became the basis for the Church of England's Thirty Nine Articles.
Under pressure, Cranmer supported Lady Jane Gray to succeed Edward. It was not to be. Mary took the throne and charged him with treason and heresy. In face of death he recanted his Protestant opinions. When he learned he was to die anyway, he publicly renounced his recantation. "As for the pope, I refuse him, as Christ's enemy and Antichrist, with all his false doctrine." When the fire was lit, he held the hand that had signed the recantation into the flame, burning it off before the fire touched his body, saying, "This unworthy right hand." As death approached he repeated several times, "Lord Jesus, receive my spirit."
Bibliography:
"Cranmer, Thomas." The Oxford Dictionary of the Christian Church. Edited by F. L. Cross and E. A. Livingstone. Oxford, 1997.
Foxe, John. Book of Martyrs.
Hook, Walter Farquhar, 1798-1875. Lives of the Archbishops of Canterbury. London, R. Bentley, 1865-1884.
McKilliam, Annie E. A Chronicle of the Archbishops of Canterbury. London: J. Clarke, 1913.
Pollard, Albert Frederick. Thomas Cranmer and the English Reformation. London: Putnam's, 1905.
"Thomas Cranmer and the English Reformation." Christian History & Biography # 48.
Last updated May, 2007.