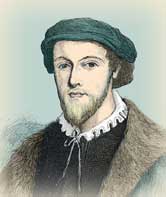 On this day, March 1, 1546, soldiers from St. Andrews Castle ushered George Wishart to his place of death. Some beggars at the roadside pleaded with him for alms as he passed, but he replied that with his hands tied, he could give them nothing. He might have added that he had already given away all his money the day he was taken to trial.
The executioner lit the fire and hung sacks of gunpowder around the victim. Wishart knelt to ask God for mercy on himself and forgiveness for his persecutors. Touched, the executioner pleaded for pardon and Wishart gave it. Turning to the crowd, he urged them not to be offended with the gospel because of the end that had overtaken him.
"Had I taught men's doctrine, I had gotten great thanks by men; but for the word's sake and the true gospel, which was given to me by the grace of God, I suffer this day by men, not sorrowfully, but with a glad heart and mind," he said. He was fixed to the stake and burned alive.
Wishart was a reformer (although the Catholic Encyclopedia claims that he was also involved in a plot to kill Beaton). Acting on ordination given to him in England, he preached in Scotland. When church doors were closed to him, he spoke in the fields. Calling all men to repentance, he also preached that only those practices taught by the Bible were binding on them.
Opposed to Wishart was Cardinal Beaton, a cruel and proud man who lived openly with a mistress and was despised by the people. He once disgraced himself at a cathedral door vying for precedence with another churchman. As the two quarreled, their followers shoved each other and tore off one another's vestments. By contrast, when Beaton sent a priest to assassinate Wishart, Wishart subdued the man and saved him from the fury of the crowd.
After his arrest, Wishart's accusers charged him with teaching heresy. He replied, "Since the time I came into this realm, I taught nothing but the ten commandments of God, the twelve articles of the faith, and the prayer of the Lord in the mother tongue. Moreover, in Dundee, I taught the epistle of St. Paul to the Romans." Other charges were that he denied we should pray to the saints and that confession to a priest does not absolve us. In reply to each charge, he showed from scripture the example and teaching of Jesus and the apostles.
Wishart's execution set in motion a train of events that changed Scotland. It was just one more incident aggravating popular resentment against the Roman Church. The people knew Wishart to be a godly man. Hotheads assassinated Beaton. John Knox, an associate of Wishart, became their chaplain and eventually led the Scottish reformation. The Roman Church was overthrown and the Presbyterian brought in.
Bibliography:
"Cardinal David Beaton." Significant Scots. http://www.electricscotland.com/history/other/beaton_david.htm
Cook, George. History of the Reformation in Scotland. Edinburgh, 1811.
Glimpses # 142. Worcester, Pennsylvania: Christian History Institute.
Knox, John. History of the Reformation in Scotland. Edited by William Croft Dickinson. New York: Nelson,1949.
"John Knox" and "David Beaton" in The Catholic Encyclopedia. New York: Robert Appleton, 1914.
"Wishart, George." The Oxford Dictionary of the Christian Church. Edited by F. L. Cross and E. A. Livingstone. Oxford, 1997.
Last updated May, 2007.
---
Originally published April 28, 2010.