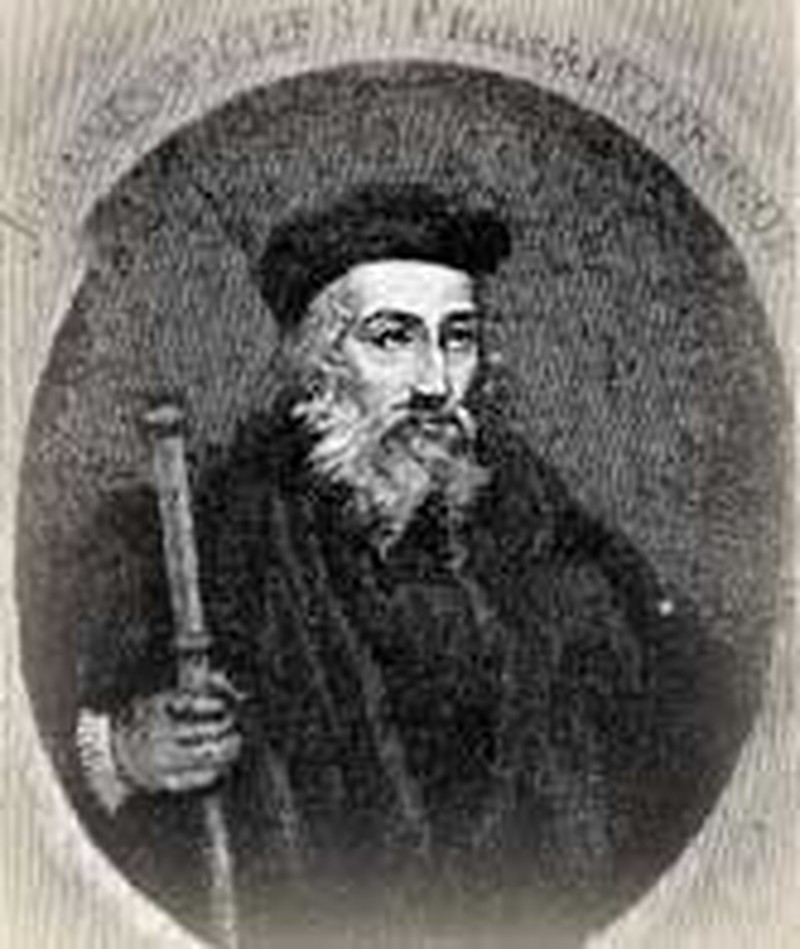 In 1399, the first time that William Sawtrey was arrested on charges of heresy, he went to prison until he broke down and gave up his beliefs. After he was freed, however, he felt as if he had betrayed Christ. The English priest from St. Margaret's in Lynn, Norfolk, found employment in London.
William was one of many laymen and priests who accepted the teachings of John Wycliffe. These believers were known as Lollards. Wycliffe said that the church of his day had corrupted the plain teaching of the Bible. He made a translation of the Bible in English so that all the people could understand God's word for themselves.
Alarmed by Wycliffe's teachings, England passed a law which made burning the penalty for "heresy." Archbishop Thomas Arundel ordered William to appear at St. Paul's on February 12, 1401 and give an account of his teachings. Arundel questioned William closely.
This time, William Sawtrey stood firm. He had said, "Instead of adoring the cross on which Christ suffered, I adore Christ who suffered on it." He stood behind those words now and it became one of the charges against him by persecutors who considered it proper to bow before crucifixes.
However, it was his beliefs about the mass that finally got him condemned. He agreed that the bread of the Eucharist after consecration was indeed the bread of life, but insisted it was just bread all the same. Roman teaching says it really becomes Christ's flesh, so he was considered a heretic.
William also held that it was a better use of time to preach to the lost than to recite certain prayers. He said that money spent on pilgrimages to save one's soul would be better spent helping the poor. The independent-thinking priest also said men were more worthy of adoration than angels.
Because of his answers, he was indicted. He answered each charge in the indictment with scriptures. Arundel questioned him for three hours on his interpretation of the mass. The archbishop tried to convince William to change his mind, or at least to accept the decision of church authorities. William refused.
On this day, February 26, 1401, his sentence was issued. William was condemned as a relapsed heretic. Under the new law, this meant he would burn. Through seven steps called "degradation" he was removed from being a priest and handed over to the secular authorities to die.
Using the defenses at his disposal, William appealed to the king and Parliament. After his appeal was denied, he was burned to death at Smithfield in front of a crowd of spectators.
He was the first "Lollard" martyr in England.
Bibliography:
"Sawtrey, William." Dictionary of National Biography. Edited by Leslie Stephen and Sidney Lee. London: Oxford University Press, 1921 - 1996.
Wood, douglas C. The Evangelical Doctor; John Wycliffe and the Lollards. Herts, England: Evangelical Press, 1984.
Last updated June, 2007