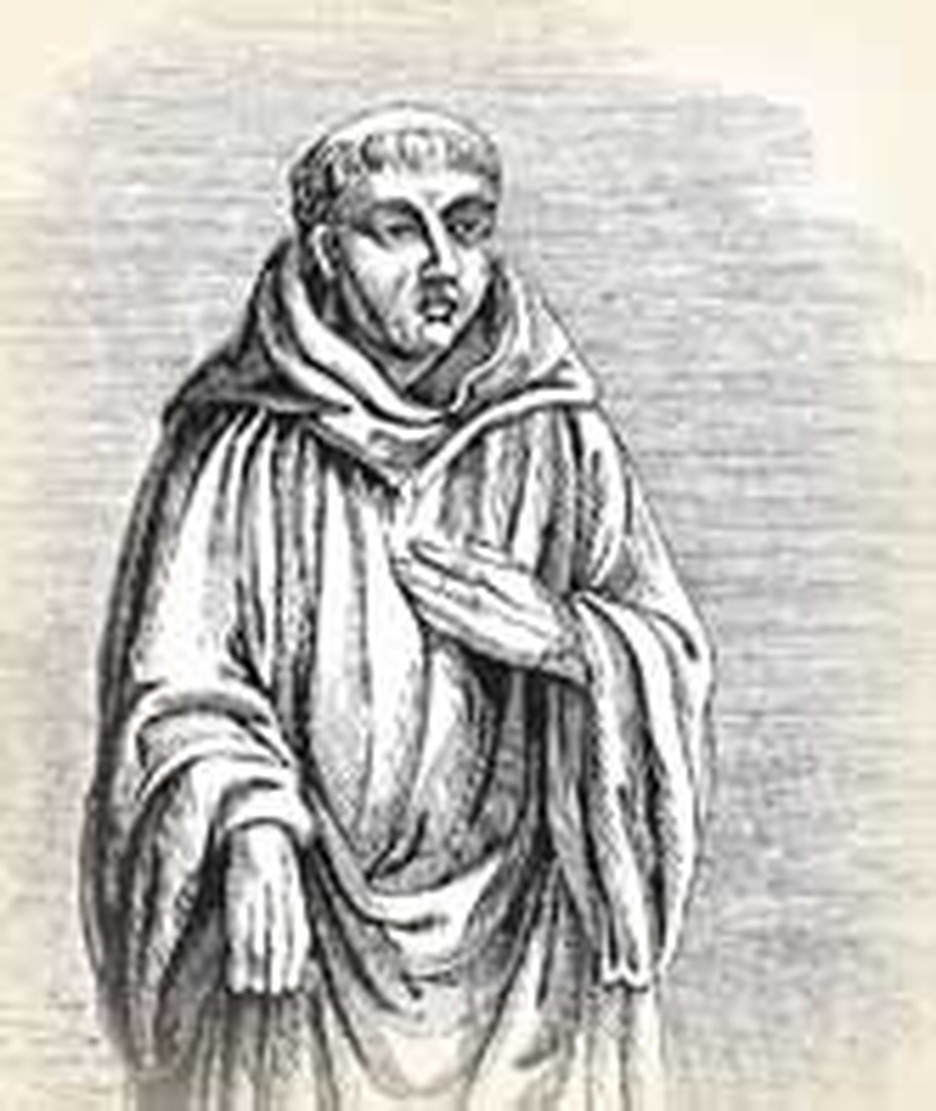 How do we know what happened in the middle ages? Although Christians did not write modern-style histories at that time, monks kept chronicles. In England, the best chronologies came out of an old, distinguished monastery near London called St. Albans. The Benedictine monks of St. Albans had accumulated great wealth and owned many books, which allowed them the leisure and resources to document English doings. Distinguished travelers from foreign lands stopped by the place.
On this day, January 21, 1217, Matthew Paris was clothed as a novice at St. Albans. He was probably seventeen or eighteen years old and would have donned a monks dress for the first time. That step positioned him to become the most famous English chronicler of the Middle Ages.
In the previous century, Abbot Simon had established a regular position for a historian. When Matthew entered the monastery, Roger of Wendover held the post. Unlike many medieval chroniclers, Wendover wrote in a lively style and boldly criticized wrongdoing. In 1236 Wendover died and Matthew Paris took his place. He improved on Wendover's style.
Traveling and corresponding with men all over Europe, Matthew Paris gathered eyewitness accounts. He wove this information into his famous Chronica Majora, which began with creation and ended in 1259. Under the headings of the years, he told of storms and robbers, kings and popes, wars and crusades. He was well-liked, even by King Henry III, whom he criticized for ruling England through foreigners.
Although thoroughly a son of the church, Matthew Paris was also a courageous writer who rebuked the behavior of popes and kings in his pages. He denounced the corruption and greed of English and Roman churchmen who lived "daintily on the patrimony of Christ" and described the pope's agents as "harpies and bloodsuckers, plunderers, who do not merely shear, but skin, the sheep."
The Chronica Majora is made even more interesting by drawings in its margins. Historians believe Matthew Paris drew these himself. He also wrote a life of Stephen Langton, the famous Archbishop of Canterbury who helped draft the Magna Carta.
Unfortunately, this monk who preserved the past for us left almost no information about himself. Other monks kept Matthew Paris' chronicle going into the next century.
Bibliography:
Dictionary of National Biography. Edited by Leslie Stephen and Sidney Lee. London: Oxford University Press, 1921 - 1996.
Green, John Richard. A Short History of the English People. New York: Harper, 1895.
Kunitz, Stanley L. British Authors Before 1800; a biographical dictionary. New York: H. W. Wilson, 1952.
"Matthew Paris." Latin Chroniclers from the Eleventh to the Thirteenth Centuries. The Cambridge History of English and American Literature in 18 Volumes, 1907–21.
"Matthew Paris." The Oxford Dictionary of the Christian Church. Edited by F. L. Cross and E. A. Livingstone. Oxford, 1997.
Paris, Matthew. Chronica majora. The illustrated chronicles of Matthew Paris: observations of thirteenth-century life; translated, edited and with an introduction by Richard Vaughan; illustrations selected by Nigel Wilkins; photography by Ian Cannell. Dover, NH: A. Sutton, 1993.
Thurston, Herbert. "Matthew Paris." The Catholic Encyclopedia. New York: Robert Appleton, 1914.
Vaughan, Richard. Matthew Paris. Cambridge, England: Cambridge University Press, 1958.
Various encyclopedia and internet articles.
Last updated May, 2007.