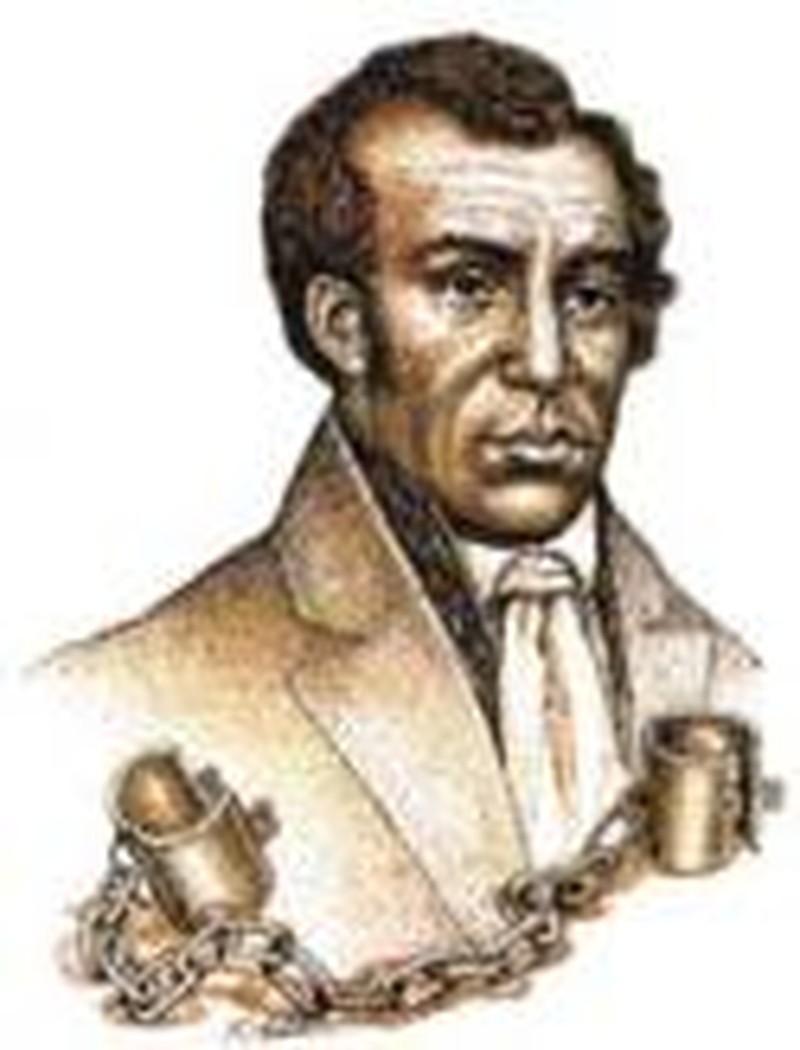 "You must leave this section now."
"Wait until the prayer is over and I will go," softly replied the black man, kneeling in prayer.
"No, you must go now or I will call for aid and force you away," warned the trustee. Hearing the commotion, black Methodist preacher Richard Allen, a former slave, opened his eyes to see his friend, Absalom Jones, being forced from his knees. For Allen this was the last straw. He could no longer serve in a church that did not welcome his people as equals. Over the months, the black members had been pushed farther and farther back in St. George's Methodist Church. On a cold Sunday in November 1787, Richard Allen and all the black church members stormed out of St. George's, vowing never to return.
Life as a Slave
I was born in Philadelphia, Pennsylvania, in 1760. Even though my family and I were slaves, we enjoyed a fairly happy life. Our owner, the lawyer Benjamin Chew, was a good man. My family worked inside his Philadelphia home and was treated well. But when I was seven years old, our lives changed without warning. Master Chew called us to the parlor. "You all know I treasure each of you, but my business is failing and some changes must be made." What followed was a blur. My family was being sold. Momma and Papa tried to comfort me saying, "Child, it's gonna be alright," but I could tell they too were scared. They had seen other slave families split up, never to see each other again. We were all happy when a Delaware farmer bought our whole family.
Working Master Stokeley's plantation was hard work, but he was also a good man and we were happy to be together. Our worst fears came true after about ten years, when Master Stokeley called us together for an announcement. "The plantation is in deep debt. In order for it to survive, I'm gonna have to sell off some of you." My momma, two of my brothers and a sister were sold. As was often the case, we never saw or heard from them again. My papa and the rest of us were heartbroken. In confusion and grief I searched for answers.
The Secret that Could Not Be Hidden
We had to wait for the cover of darkness before finding our way through the deep woods. No one must know of this secret meeting. I followed the group, wondering what I would hear from the white preacher. When the clearing came into view, I could hear his message about the evils of slavery and how God would judge slave owners. Of course, that quickly got my attention. He said that even when slaves were treated well, the very practice of owning another human being was still evil. My thoughts swirled with the idea of freedom--freedom to be and go and do as I pleased. But then the preacher said something I had never heard before. He said that God loved me so much He sent His Son to earth to die for me. In God's eyes, I was a sinner, in need of forgiveness, just like the slave owners. The preacher's message shook me to my very being. My soul agonized for days. Finally, I wholeheartedly asked God to take over my life and use me as He pleased. I would still serve Master Stokeley, but God would be the master of my heart.
Church Will Make Slaves Lazy
"You let those slaves off from their work to go to church, and they will become even lazier." Master Stokeley's neighbors had begun to spread this warning. My brother and I decided to work extra hard to prove them wrong, and it paid off. Master Stokeley was overheard telling his neighbors, "My Christian slaves are my hardest workers." That being so, he agreed when I asked him to let traveling preachers come to the plantation to preach to the other slaves. Master Stokeley even came to hear one of the preachers himself. He didn't know that the words of the preacher would change his life, too. I will never forget Master Stokeley's reaction when the preacher said that God was going to hold slave owners accountable on Judgment Day. He did not know what to do. He was too deep in debt to just let us go free. But after becoming a Christian, he knew he had to find a way to set us free.
Free at Last!
Master Stokeley said I could go free if I saved the $2,000 that I could be sold for. After about three years of working extra jobs, I finally earned my freedom papers! As I traveled I told those I met how much God loved them and wanted them to live righteously.
Richard Allen the Preacher
It was quite a surprise when the leaders of St. George's Methodist Church in Philadelphia asked me to move there to preach at their church. Even though people thought I spoke with great fervor and authority, it was unheard of for a black man to preach in a white church. Sure, there were many freed blacks in the church, but most of the members were white. I accepted the position, preaching with all my might. My messages drew large numbers of blacks. Because of this, white members complained. They forced the black members to sit or stand in the back of the church. The day the blacks were forced to move from the main floor to the newly built balcony during prayer, I knew it was time to find a church where we could worship freely. Maybe this was the reason God brought me to Philadelphia in the first place.
The First Independent Black Church
I purchased land in downtown Philadelphia at 6th and Lombard Streets for what I hoped would be the future site of the first Black Methodist church. On July 29, 1794, we held our first church service in Bethel "Methodist" Church, a converted blacksmith's shop. Loud "amens" and clapping filled the air where horseshoes and halters once hung. There were just ten members at first, but within a few years, our membership grew to over 100. By 1813, the number had grown to 1,272. The leaders of St. George's were not happy with our independence, so for years they tried to take control of the church. In 1816, nearly 20 years after we stormed out of St. George's, we were granted legal status as Bethel African Methodist Episcopal (AME) Church. It became the first independent black denomination in the US.
Post Script
Richard Allen (1760 - 1832) and his friend Absalom Jones also formed the Free African Society to help freed blacks integrate into society. They spoke against slavery and gave food, clothing, and shelter to the needy. Allen also founded a day school, fought against the move to return freed slaves to Africa, published numerous articles, and operated successful businesses. As a result, he was able to serve the AME church without ever collecting a salary.
Make It Real! Questions to make you dig a little deeper and think a little harder.
Even though the preacher at the secret meeting was white, Richard Allen was open to his message. Are you surprised that he believed what the preacher had to say?
Why would the slave owners think slaves would become lazier if they attended church? Why is it important for Christians today to work hard? See Ephesians 6:7Æ8.
The Methodist church worked hard to help free slaves and even invited Richard Allen to preach there. Why did they continue to treat blacks as unequals? Look up Galatians 3:28.
Freed slaves had to keep their freedom papers with them at all times. How is this another form of bondage?
Do you know of examples today where some races or nations are not treated as equals?
Suggested reading:

Richard Allen by Steve Klots (Black Americans of Achievement series, Chelsea House Publications)