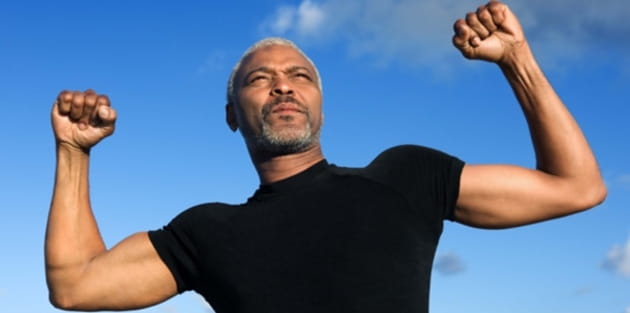 I come from a cavalry family, as in horse soldiers. My great-grandfather was a cavalry scout in the frontier West. My grandfather commanded the Army's last horse cavalry regiment (in 1938, believe it or not). At that point, our family switched from horses to tanks, and both my father and I served as tank officers. Suffice it to say that I possess a fair amount of cavalry paraphernalia. In fact, I am writing this chapter at a desk beneath a print of a horse cavalryman firing from his saddle.
Of all the great cavalry movies, none holds a dearer place in my heart than John Wayne's classic, She Wore a Yellow Ribbon. Portraying Captain Nathan Briddles, a grizzled Civil War veteran who is facing the end of his career, the Duke is a walking cornucopia of manliness. When I was a young armored cav officer, I not only watched this movie roughly a thousand times but absorbed much of its ethos. Anyone who has seen this movie can tell you that Captain Briddles' approach to manliness can be summed up in two words: Never apologize! Over and over again, he grills his hapless lieutenants, always with the same emphasis: "Never apologize, Mister!" I am afraid that I took this counsel a bit too much to heart, with the result that my early twenties were a little more obnoxious than they needed to be.
When I became a Christian, however, I learned that not every manly saying in John Wayne movies should be adopted. "Never apologize" may sound great in theory, but in practice it can combine with a man's sin nature to make him overbearing and arrogant. As I became more familiar with Scripture, I learned about two different words that do a far better job of summarizing how a man should live. These are the two words you read about in Chapter 1, words we will revisit throughout this book: "work" and "keep." Taken together, these two words serve as a summary of the Bible's mandate for masculine behavior. Men are called to be men, fulfilling our calling before God in this world: "The Lord God took the man and put him in the garden of Eden to work it and keep it" (Gen. 2:15). Our calling in life really is this simple (although not therefore easy): We are to devote ourselves to working/ building and keeping/protecting everything placed into our charge.
What exactly do these two words signify? Let's take a few moments to look more closely.
Work: To Cultivate as a Gardener
First, let's consider avad, the Hebrew term translated in Genesis 2:15 as "work." This is an extremely common word in the Old Testament, and can appear in a verb or noun form. As a verb, it most often means "work," "serve," "labor," "cultivate," or "perform acts of worship." As a noun, it usually indicates "servant," "officer," or "worshiper." Because the context for Genesis 2 is the Garden of Eden, we should first consider how avad applies in an agricultural sense. Adam was called by God to till and cultivate the garden so it would grow and bear an abundance of fruit. Thus, the command to "work" links up with the earlier mandate to "be fruitful . . . and fill the earth" (Gen. 1:28).
What does a gardener do to make his garden grow? He tends the garden; he works it. He plants seeds and prunes branches. He digs and fertilizes. His labor makes living things strong, beautiful, and lush. As he works, he is able to stand back and see that he has accomplished good things. There are rows of tall trees, rich fields of wheat, bountiful vineyards, and colorful beds of flowers.
My favorite summer job in college was working for a landscaper. Every day we would drive out to a job site—often someone's home—to plant trees, build garden walls, and put in rows of bushes. It was hard but satisfying work. The thing I liked best was looking in the mirror as we drove away to see that we had accomplished something good and growing.