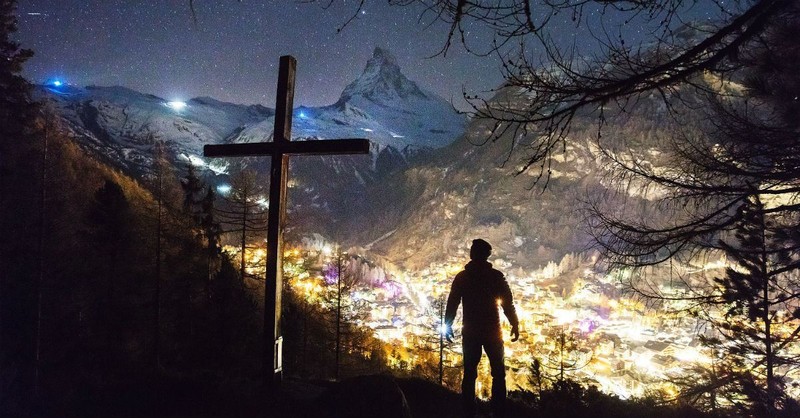 Atonement Definition
In Christianity, atonement refers to the needed reconciliation between sinful mankind and the holy God. This reconciliation is possible through the atoning sacrifice of Jesus Christ, as expressed in Romans 3:25, Romans 5:11, and Romans 5:19. Atonement is the Bible's central message.
"Receiving the atonement is our actual reconciliation to God in justification, grounded upon Christ's satisfaction," according to Matthew Henry's Commentary. "We Christians, we believers, have now, now in gospel times, or now in this life, received the atonement, which was typified by the sacrifices under the law, and is an earnest of our happiness in heaven."
Atonement in the Bible
Atonement is an often-used Old Testament term representing a sacrifice for sin. Leviticus 16 describes atonement on many levels by many actions. The whole process was quite detailed but necessary for the people of God to be holy before God, and thus at one with God. They were a set-apart nation, and as such, observed these rituals of atonement.
Atonement for the Priest
"Aaron shall offer the bull as a sin offering for himself and shall make atonement for himself and for his house." (Leviticus 16:6)
Here, the bull offering was specifically for the priest (Aaron) and his family as an offering for any sins committed.
Atonement for the People
Next came the goat offering for the sins of the people. "Then he shall kill the goat of the sin offering that is for the people and bring its blood inside the veil and do with its blood as he did with the blood of the bull, sprinkling it over the mercy seat and in front of the mercy seat. Thus he shall make atonement for the Holy Place, because of the uncleanness of the people of Israel and because of their transgressions, all their sins." (Leviticus 16:15-16).
Atonement for Objects
These are just a couple examples of purification rituals for not only the Israelites, but often for inanimate objects. The Lord also instructed the priest on making atonement for "the holy sanctuary," "the tabernacle of the congregation," "and for the alter" (Leviticus 16:33).
The Bible Meaning of Atonement
Read a transcript of this video by Shai Linne explaining the Bible meaning of "atonement":
Atonement is a word that's, it's actually found in, in some translations in Romans chapter three, verse 25, which says that, in some translations that God offered up Jesus as a sacrifice of atonement. Other translations would use the word propitiation, and the idea there is of wrath absorbing substitute. Okay?

Jesus Christ on the cross absorbs the wrath of God. It's a transaction between the father and the son. The father pours out his anger towards sin on Christ, and his wrath is actually satisfied. And because of that, the guilty sinner who trusts in Christ gets to go free. It's related, somewhat related to justification, but it's the way that justification is actually possible.

A sacrifice of atonement, a substitute. And this goes back to old, religious language. Even in Pagan religions they had an idea that the gods were actually angry with them. And so, what they would do, is they would offer up sacrifices to try to appease the gods, so to speak. And so, that language of atonement found in the old system, Old Testament, sacrificial system. And it's basically the offering of a substitute in the place of another. To do away with their sins.
Atonement in the New Testament
In the King James Version of the Bible, the word atonement is only used once in the New Testament – in Romans 5:11. However, most other versions have translated the word "atonement" to "reconciliation" because that is the literal interpretation of the word.
"Much more then, being now justified by his blood, we shall be saved from wrath through him. For if, when we were enemies, we were reconciled to God by the death of his Son, much more, being reconciled, we shall be saved by his life. And not only so, but we also joy in God through our Lord Jesus Christ, by whom we have now received the atonement." (Romans 5:9-11)
This passage states that believers are justified and reconciled by the atonement of Christ.
The Meaning of Atonement
Adam's (and subsequently all man's) choice to sin made everyone guilty before God, without hope. But then, Christ stepped in, making atonement for sin. Christ, the sinless lamb, took upon Himself the sins of many, that they might receive the atonement for sins and be reconciled to God.
"For as by one man's disobedience many were made sinners, so by the obedience of one shall many be made righteous." (Romans 5:19).
To accept Christ's atonement for sin is to acknowledge one's sin and receive His sacrifice. And not only that but to live a grace-filled life of abundance. There is no more barrier between the believer and God, for they have received Christ's atoning power and God's satisfaction of acceptance through that atonement and thus, reconciliation.
Read a transcription of this video by Mark Dever below:
The Bible, when atonement is talked about, it means that a price has been paid for our sins that has the result of bringing sinful us together with Holy God. We have been reconciled to God. So we understand that Christ made an atonement. That's the Bible language, Christ made an atonement for our sins. He paid a price, His own life, that God accepted for us on our behalf. So we are now brought back to God. A great book to think more about what the Bible says about the atonement is called "The Atonement," written by Leon Morris.
Ruthie Gray is a wife, Gigi, and mom of four (who lived to tell about it). Since Ruthie's passion is mentoring moms to find joy in motherhood, she provides weekly parenting advice through humor and practical application of Scripture at Ruthie Gray.Mom. Ruthie is the author of Stepping Stones; 8 Mindsets for the mom who thinks she's failing at motherhood, and Count to Nine; 9 Liberating Steps for Mom Frustration and Anger. Click to download her Wife and Mommy Survival Kit here.
Photo Credit: Unsplash/JoshuaEarle