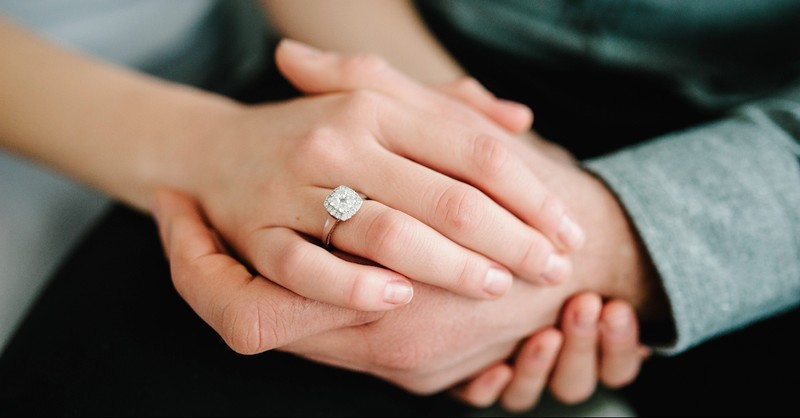 "Now I lay me down to sleep, I pray the Lord my spouse to keep?"
Now if this is your idea of prayer then your marriage may be in trouble. Prayer should be the first tool you pick up on a daily basis, not the last like this little ditty suggests.
So how do you pray for your marriage? What does it mean to truly pray for your marriage compared to the things you think you should be praying for?
It isn't about controlling your spouse. It's definitely not about being your spouse's spiritual leader and it is certainly not about asking God to fix all the flaws your spouse has either.
I learned this the hard way years ago when we were first married. I wished to pray, at times, for God to strike Chris dead when his careless remarks cut deep. I prayed for God to change all of his wayward issues. I asked God to change his attitude and mind.
But here's the thing, praying for your spouse and praying for your marriage isn't about asking God to change him — it changes you. It defines and then refines the bonds of your marital vows because the goal isn't happiness. The goal is to transform your marriage to reflect Jesus and his bridegroom, the church.
It may not sound appealing if you are in a struggling marriage that's on the rocks. However, remember what I just said, praying for your marriage will refine the both of you.
So, what should you be praying for and how should you be praying? Here are three areas and prayers to help you navigate your time talking with God.
It's Not about You
It's not about you. It's selfish to get married to a person because you think they will make you happy. While happiness is the result of a healthy relationship, marriage is designed to refine you. Marriage is holy work. Hard work. It's going to cost you something you never expected, it will cost you yourself. It will cost you everything.
You marry because you want to share your life with someone. You marry because you want to build a family. You get married because you want that person to help you raise your children. You marry because that man is your person. It was meant to expose the splinters in your soul.
As selfishness rises up, God offers to sand it down. The job of marriage is to expose our dysfunction and propel us towards steady wholeness in Christ.
Marriage is about commitment, sacrifice, serving, giving, forgiving — and then doing all over again — every day. Regardless of changes in personalities, aging bodies, or the ever-waning ebb-and-flow of romantic love. The same goes for praying for your marriage.
Pray for His Will Not Your Will
The more we understand what God wants for our marriage, the easier it is to yield to his will. So, what is God's will for marriage? Now that we talked about how God created marriage, and how it mirrors Jesus' relationship with his bride, the church, we must understand what God wants for marriage.
He wants iron to sharpen iron. He wants you both to support each other and to pursue Him with all your hearts, minds, and strengths. He wants you to have children and raise them to know and love Christ.
He wants the love you two have for each to reflect the love he has for his people. Therefore, always come to God with a humble heart and as you pray, seek His will.
Pray for Unity
You and your spouse are two separate people. That may sometimes mean differing opinions, likes, dislikes, personalities, and the list goes on. The healthiest marriages are those in which both parties maintain separate identities and purposes. The enemy will do everything in his power to find areas of weakness and exploit them. Our job is to stand united together.
Marriage is resilient, often flourishing in the face of adversity or trial when both have learned to respect one another and to trust in and live to the glory of God. Your marriage should always be treated with honor, respect, and sacredness — as a reflection of God's great love for his people!
Here are 31 additional ways to pray over your marriage. You can take the following one-worded prompts to pray specifically over this area of your marriage for 31 days or however you choose. For example:
Unity: Therefore what God has joined together, let no one separate (Mark 10:9).
Lord, I lift up my marriage to you today. I thank you for my spouse and for this union. Open my eyes to behaviors, attitudes, habits, or outside relationships that are tearing at our united front. I pray for a hedge of protection around our union for what you joined together, let no one separate. Amen.
Lord, we pray for:
Adoration: My beloved is mine and I am his (Song of Songs 2:16).
Commitment: Though one may be overpowered, two can defend themselves. A cord of three strands is not quickly broken (Ecclesiastes 4:12).
Courage: Be strong and courageous. Do not be afraid; do not be discouraged, for the Lord your God will be with you wherever you go (Joshua. 1:9).
Discernment: And it is my prayer that your love may abound more and more, with knowledge and all discernment, so that you may approve what is excellent, and so be pure and blameless for the day of Christ (Philippians 1:9-10).
Endurance: Love bears all things, believes all things, hopes all things, endures all things. Love never ends (1 Corinthians 13:7-8).
Forgiveness: Be kind to one another, tenderhearted, forgiving one another, as God in Christ forgave you (Ephesians 4:32).
Friendship: Two are better than one…if either of them falls, the one will lift up his companion (Ecclesiastes 4:9-10).
Fruitfulness: But the fruit of the Spirit is love, joy, peace, patience, kindness, goodness, faithfulness, gentleness and self-control (Galatians 5:22-23).
Gentleness: Walk in a manner worthy of the calling to which you have been called, with all humility and gentleness, with patience, bearing with one another in love, eager to maintain the unity of the Spirit in the bond of peace (Ephesians 4:1-3).
Grace: Let your conversation be always full of grace, seasoned with salt, so that you may know how to answer everyone (Colossians 4:6).
Health: Gracious words are a honeycomb, sweet to the soul and healing to the bones (Proverbs 16:24).
Hope: For I know the plans I have for you, declares the Lord, plans for welfare and not for evil, to give you hope and a future (Jeremiah 29:11).
Humility: Do nothing from selfish ambition or conceit, but in humility count others more significant than yourselves. Let each of you look not only to his own interests, but also to the interests of others (Philippians 2:3-4).
Integrity: Whoever walks in integrity walks securely, but he who makes his ways crooked will be found out (Proverbs 10:9).
Intimacy: Do not deprive one another, except perhaps by agreement for a limited time, that you may devote yourselves to prayer; but then come together again, so that Satan may not tempt you because of your lack of self-control (1 Corinthians 7:5).
Kindness: She opens her mouth with wisdom, and the teaching of kindness is on her tongue (Proverbs 31:26).
Love: May the Lord make your love increase and overflow for each other (1 Thessalonians 3:12).
Oneness: "They are no longer two but one flesh. What God has joined together, let no man separate" (Matthew 19:6).
Peace: Finally, brothers, rejoice. Aim for restoration, comfort one another, agree with one another, live in peace; and the God of love and peace will be with you (2 Corinthians 13:11).
Protection: The Lord is faithful. He will establish you and guard you against the evil one (2 Thessalonians 3:3).
Provision: And my God will supply every need of yours according to his riches in glory in Christ Jesus (Philippians 4:19).
Purpose: And we know that for those who love God all things work together for good, for those who are called according to his purpose (Romans 8:28).
Respect: Let each one of you love his wife as himself, and let the wife see that she respects her husband (Ephesians 5:33).
Self-Control: For God gave us a spirit not of fear but of power and love and self-control (2 Timothy 1:7).
Servant-Hearted: As for me and my household, we will serve the Lord (Joshua 24:15).
Strength: The Lord gives strength to his people; the Lord blesses his people with peace (Psalm 29:11).
Submission: Submit to one another out of reverence for Christ (Ephesians 5:21).
Thankfulness: Pray continually, give thanks in all circumstances; for this is God's will for you in Christ Jesus (1 Thessalonians 5:17-18).
Trust: There is no fear in love, but perfect love casts out fear (1 John 4:18).
Understanding: Husbands, live with your wives in an understanding way (1 Peter 3:7).
Wisdom: Above all else, guard your heart, for everything you do flows from it (Proverbs 4:23).
Photo Credit: ©iStock/Getty Images Plus/Serhii Sobolevskyi
---

Heather Riggleman is an award-winning journalist and a regular contributor for Crosswalk. She calls Nebraska home with her three kids and a husband of 22 years. She believes Jazzercise, Jesus, and tacos can fix anything and not necessarily in that order! She is author of I Call Him By Name Bible Study, the Bold Truths Prayer Journal, Mama Needs a Time Out, and a contributor to several books. You can find her at www.heatherriggleman.com or on Facebook.