God Values Children
It is clear from Scripture that God holds enormous love for children and values them with a father's fervent passion. He loves them. He protects them. He values them. And He is more than willing to equip and empower them to minister to the world and believers in the church.
In the Psalms, David wrote that children are cherished in God's eyes even before they are born.
"For You formed my inward parts;you wove me in my mother's womb. Iwill give thanks to You, for I am fearfully and wonderfully made; wonderful are Your works, and my soul knows it very well. My frame was not hidden from You, when I was made in secret, and skillfully wrought in the depths of the earth; your eyes have seen my unformed substance; and in Your book were all written the days that were ordained for me, when as yet there was not one of them" (Psalms 139:13-16).
David's son Solomon also wrote:
"Behold, children are a gift of the Lord,the fruit of the womb is a reward. Like arrows in the hand of a warrior, so are the children of one's youth. How blessed is the man whose quiver is full of them; they will not be ashamed when they speak with their enemies in the gate" (Psalms 127:3-5).
Jesus Loved Children During His Ministry
God's love for children was further manifest through Jesus's earthy ministry, where He demonstrated love for little ones and expressed joy in spending time with them.
In the book of Mark, Jesus famously rebuked his disciples for turning away those bringing children before Him to be blessed. "When Jesus saw this, he was indignant. He said to them, 'Let the little children come to me, and do not hinder them, for the kingdom of God belongs to such as these'" (Mark 10:14-15).
In Matthew's gospel, Jesus told His followers, "see that you do not despise one of these little ones. For I tell you that their angels in heaven always see the face of my Father in heaven" (Matthew 18:10).
And on numerous occasions, Jesus went out of His way to heal children suffering from disease and spiritual affliction (Mark 7:24-30; Luke 8:40-56; John 4:46-52).
From His many encounters and teachings, we see that children held a very special place in Jesus's heart and were a vital part of His earthly and eternal ministry. He cherished spending time with children and was eager to bless even His youngest followers. Christ came so that ALL could know Him, and despite what many believed, namely the Pharisees, this included children.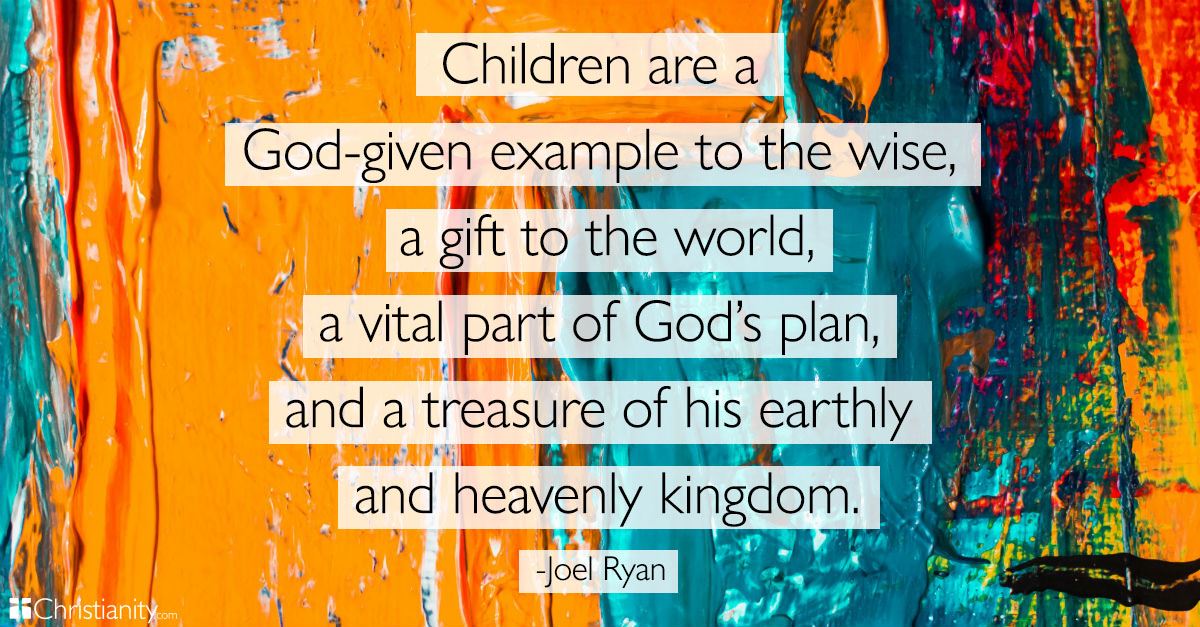 Photo Credit: Pexels/SteveJohnson, Design Credit: Bethany Pyle
Jesus Empowers Children
Throughout Scripture, God has not shied away from commissioning and empowering young believers either. In doing so, He affirms that faith and worship are not reserved for just adults or mature believers (Psalms 8:2). Children have just as much stake in the kingdom of God and are just as important in His plan for reaching the world.
God often entrusts children and young believers with wisdom, power, and the gifts of the Holy Spirit to minister to the world and proclaim the message of His gospel. Scripture is filled with many examples:
In each story, God spoke to young believers and empowered them at a young age; and in each instance, the aforementioned believer took ownership of their faith, sought the Lord, and followed His instructions. In doing so, God mightily used each of them, regardless of their age.
As Paul wrote to Timothy, "let no one look down on your youthfulness, but rather in speech, conduct, love, faith and purity, show yourself an example of those who believe" (1 Timothy 4:12).
God is not afraid to entrust young people with the message of the Gospel and empower them with the mission of advancing His kingdom. In many ways, God also wants children and youth to provide an example for mature believers on how to live and how to seek Him.
Jesus Encourages Us to Be Like Children
During His ministry, Jesus's disciples asked who was considered the greatest in the kingdom of heaven. To this Jesus, "called a child to Himself and set him before them,and said, 'Truly I say to you, unless you are converted and become like children, you will not enter the kingdom of heaven. Whoever then humbles himself as this child, he is the greatest in the kingdom of heaven. And whoever receives one such child in My name receives Me' (Matthew 18:1-5).
Jesus encouraged His followers to look to the faith and humility of children as an example of how they should live. He expected His followers, regardless of age, to be teachable, humble, and always reliant on Him. Likewise, Jesus wants us to be filled with joy, be eager to serve, and not worry about tomorrow or the stresses of today, but rather, trust Him as children trust their parents to care for and provide for their needs.
Children are a God-given example to the wise, a gift to the world, a vital part of God's plan, and a treasure of His earthly and heavenly kingdom. It is clear from Scripture that Jesus has nothing but love for the children of the world. They are valuable, they are valued, and as the song famously sings, "they are precious in His sight."
Joel Ryan is an LA-based children's and young adult author who teaches writing and communications at Life Pacific University. As a former youth pastor, he has a heart for children and young adults and is passionate about engaging youth through film, literature, and theater. His blog, Perspectives Off the Page, discusses the creative and spiritual life through story and art.
Photo Credit: ©GettyImages/Rawpixel