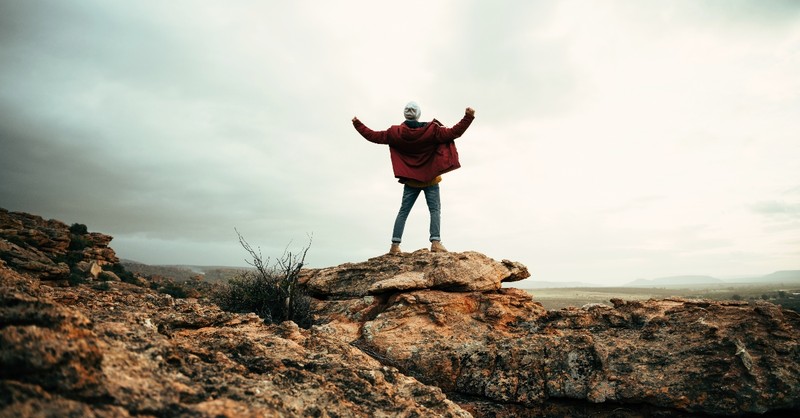 As Christians, we always hear about Christ being our solid rock. Jesus is always referred to as our solid foundation. We first read this in Matthew 7:24-27, Jesus speaks of building your life on solid rock.
In this verse, He says that anyone who hears these words and does them is like a wise man who built his house on a rock. Jesus even set an example of while the rain fell, the rivers rose, and the wind blew and beat against that house, it did not fall because its foundation was firmly anchored upon the rock.
Jesus then emphasized that "those who hear my words and do not put them into practice are like foolish men who build their houses on the sand where it rained, the streams rose, and the winds blew and beat against that house, and it collapsed with a loud bang." Taking the passage from Matthew 7:24-27, how is Jesus our sold rock in our daily lives?
What a Rock Means in the Bible
To understand this further, let's examine some references to the term "rock" found in the Bible. First is in Genesis 49:24 where Jacob describes God as "the Rock of Israel" upon whom Joseph relied on when he was persecuted.
We also read these words in Hannah's prayer of thanksgiving in 1 Samuel 2:2, "There is no Rock like our God."
Additionally, David sang a hymn to God after he was delivered from His enemies. It is the Lord who is my rock, my deliverer, and my fortress found in Psalm 18:2.
In Psalm 18:2 we read, "My God is my refuge," which is a metaphor for God and that he is rocklike, solid, protective, secure, firm, and immovable, and that our lives are built on that foundation.
In Jesus' Sermon on the Mount, we see the solid rock in its context in Matthew 7:24-27
"Therefore everyone who hears these words of mine and puts them into practice is like a wise man who built his house on the rock. The rain came down, the streams rose, and the winds blew and beat against that house; yet it did not fall, because it had its foundation on the rock. But everyone who hears these words of mine and does not put them into practice is like a foolish man who built his house on sand. The rain came down, the streams rose, and the winds blew and beat against that house, and it fell with a great crash."
Jesus emphasized to the religious leaders in His Sermon on the Mount that just being religious and sounding religious won't guarantee eternal salvation.
Jesus Is the Cornerstone of Our Lives
The main message of Jesus' sermon was that faith in Jesus is our foundation upon which we should build our lives.
Every aspect of my life is guided by His position. Jesus also emphasized that just standing on a rock is not enough — His every word needs to be put into practice.
We trust Jesus completely when we are committed to Him. It is our duty to obey His commands. It is vital that we discover more about Him and become more and more like Him as we live our lives.
According to 1 John 2, "Whoever claims to live in Him must live as Jesus did."
What did Jesus mean when he talked about the "foolish man" in His Sermon? Sand is unstable, so he's more likely to get damaged in a storm. The foolish man's life doesn't have a solid foundation in God. He doesn't trust Him. God loves and cares for Him, but he doesn't see it.
Jesus Is a Rock That Is Resilient to Storms
Storms can cause serious damage to sand houses. It will surge with a great crash without any warning. In a calm climate, any house will stand. Trouble, pressure, suffering, and stress, however, can destroy a house built on sand.
The foundation of a house built on sand has no foundation to anchor it to. The foundation of a solid life is not emotion or worldly virtues or morals that change and shift. It is no wonder those houses are destroyed by storms.
Is there a reason why some choose to build their lives on sand? The problem may be that they simply don't focus on living life around Christ. Perhaps they have heard, but don't follow through.
Many people simply like the status quo and will stubbornly hold on to their homes on the sand. Having a life based on Christ might seem like an extreme sacrifice to some.
The solid Rock of Jesus is resilient to any kind of storm in our lives. In His presence, we can be at peace and assured. Whatever comes our way, we can always trust in the love, hope, and enduring rock of Jesus.
Jesus invites us to "come to me, all you who are weary and burdened, and I will give you rest." "Take my yoke upon you and learn from me, for I am gentle and humble in heart, and you will find rest for your souls. For my yoke is easy and my burden is light" in Matthew 11:28-30.
Jesus Is the Rock That Will Never Move
Every person builds their own life. The life we build will be very strong if we commit to building it upon Jesus and His teachings. We are promised God's immovable, unconditional, irrevocable love.
Maintaining a strong prayer life and staying in God's Word by praising Him, having fellowship with other believers, and asking Him to stretch you spiritually will make sure you are a "rock-solid," committed, and action-oriented follower of Christ.
Throughout all eternity, the Truth remains. Jesus is the Rock that will never move. No matter what, He stands firm. The opinions of others will not sway Him.
The Lord will never be defeated. In Him, there is surety and safety, love and grace, forgiveness and faithfulness, power and strength, and His words are truth, bringing life and freedom.
We could live free of our sins because of the price that He paid on Calvary's cross. Death and shame were broken by the power of the Cross and the Resurrection of Christ. That is true love. Sacrifice at its finest. Grace at its finest.
What Does This Mean?
How Is Christ the Solid Rock on which we stand? This question can be answered by first taking a look at what rock means in the bible. The meanings can be read in the Old Testament and in the New Testament.
After understanding what rock means which ultimately is a metaphor for God, we can now understand that Jesus is the Rock that will never move, Jesus is a rock that is resilient to storm's damage, and Jesus is the cornerstone of our lives.
We must always lean on Him because He is the only solid aspect of our daily lives as everything else is supple without Him.
For further reading:
What Does it Mean That God Is the Rock of Salvation?
What Did Jesus Mean 'On This Rock I Will Build My Church'?
What Does it Mean to Have Faith in Jesus?
What Does it Mean That Our Security Is in the Lord?
Photo Credit: ©iStock/Getty Images Plus/Cameron Prins
---
Glory Dy has been a content creator for more than 10 years. She lives in a quiet suburb with her family and four cats.