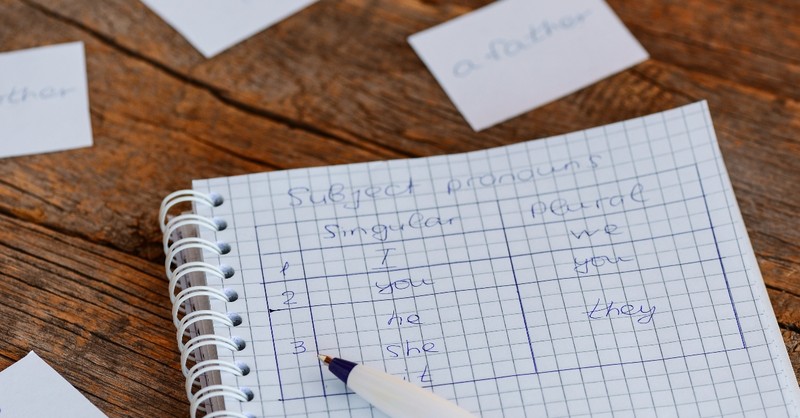 Recently, a few celebrities came out as nonbinary. Then others stated they would prefer to be called female, instead of male. Now, there is a constant conversation about gender bias and gender inclusion.
Most recently, a couple made headlines after they birthed their first child and they refused to share its gender in order to avoid gender bias. And now, more and more Christians are refusing to use pronouns for God, Jesus, and even the Holy Spirit.
Instead of using masculine pronouns, they refer to God as Lord, or Our Father, and the Holy Spirit as it. This creates a lot of confusion. Not because God has sexual characteristics but because He created us in His image, and He refers to Himself as male.
But He also has female characteristics and created women in His image as well. So why do we refer to Him with masculine pronouns?
What Are Masculine Pronouns
Let's take a trip back to elementary school when we were taught all about verbs, adjectives, nouns, and pronouns.
A pronoun, as defined by the Merriam-Webster dictionary, is "a word used instead of a noun or noun phrase. Pronouns refer to a noun that has already been named or doesn't need to be named specifically."
For example, "Tommy has a red ball and he doesn't want to share." Or "Our God, is a mighty God. He has mercy on those who obey him."
In both sentences, the nouns: Tommy and God were named. Then they were referred to as "he," which is the proper masculine pronoun.
Why Does the Bible Use Masculine Pronouns?
We believe the Bible is the inspired, infallible Word of God. The word "infallible" means incapable of error. 2 Peter 1:19-21 tells us:
We also have the prophetic message as something completely reliable, and you will do well to pay attention to it, as to a light shining in a dark place, until the day dawns and the morning star rises in your hearts. Above all, you must understand that no prophecy of Scripture came about by the prophet's own interpretation of things. For prophecy never had its origin in the human will, but prophets, though human, spoke from God as they were carried along by the Holy Spirit.
In other words, God's Word is "perfect, refreshing the soul" (Psalm 19:7) because God Himself is perfect. If God is perfect, so is His Word.
2 Timothy 3:16-17 says, "All Scripture is breathed out by God and profitable for teaching, for reproof, for correction, and for training in righteousness, that the man of God may be complete, equipped for every good work."
We also know the Word of God is "alive and active." Hebrews 4:12, reminds us, "The word of God is alive and active. Sharper than any double-edged sword, it penetrates even to dividing soul and spirit, joints and marrow; it judges the thoughts and attitudes of the heart."
As we dig through the Bible, we find God referring to Himself as male. The Bible also teaches that God created us male and female, made in His own image.
The reason why we refer to God as male is because this is the way God has chosen to reveal Himself to us. He consistently describes Himself in the masculine pronoun.
What about Gender Bias and the Patriarchal Roles?
Some want to argue the Bible is biased because it was written over thousands of years by 40 different authors who were all male. The Bible was written when women had limited roles and expectations placed on them by a very male-dominated culture.
Men had more power and authority than women. Yet, Jesus came to shake up this gender divide. Historians have learned that ancient Israel was a patriarchal culture. But it was supposed to be designed to protect the family unit, to honor and cherish women and children.
However, because they were flawed human beings, many men abused this power and treated women as if they were objects and women were considered the weaker sex, but God created women to be the pinnacle of His creation. Genesis 1:26-27 says,
Then God said, "Let us make man in our image, in our likeness, and let them rule over the fish of the sea and the birds of the air, over the livestock, over all the earth, and over all the creatures that move along the ground." So, God created man in his own image, in the image of God he created him; male and female he created them.
Both women and men are created in the image of God. Yet, being created in the image of God does not refer to His physical characteristics. That leads us to believe that God is neither male nor female. He's beyond male or female because we also know God is a spiritual being.
C.S. Lewis once said, "Gender is far deeper than our human distinctions reveal. He suggests that God is so masculine that we all are feminine in relation to Him. If this is true, it might explain why the church is referred to as the bride of Christ, though it is composed of both men and women."
Does God Refer to Himself as Male?
From the very beginning of the Bible, Genesis all the way to Revelation, God refers to Himself as male. There are approximately 170 references to God, as the "father." If God had chosen to reveal Himself in female form, then He would have chosen "mother."
Jesus also referred to God as His father. In the gospels, "father" is said in reference to our mighty, heavenly father, 160 times. In John 10:30, Jesus very clearly stated, "I and the Father are one."
The Bible also reveals that God has attributes that we would normally refer to as feminine, or motherly but that doesn't mean the Bible presents God as a woman or female.
Instead, He chooses to reveal Himself to us as our Heavenly, Father. There are close to 1,000 verses where God uses a masculine Greek noun as a direct reference to Himself.
He chose to reveal Himself, including Jesus, as a man in order for humanity to more easily grasp who God really is. Scripture records numerous other instances when Jesus used masculine nouns and pronouns in reference to Himself as a man, and Son of God but also in reference to God.
One might advocate for a gender-inclusive Bible or to refer to God as "They" or the "The Lord." But we need to look at the motives behind these ideas and also remember the Bible is infallible as it is. Nothing may be added or taken from it.
We cannot conform God to our pollical agenda or preferences. He is the One who created the universe, the Grand Canyon, men, women, atoms, and chromosomes. While He makes allowances so we can relate to who He is, it is important for each of us not to put God in a box!
For further reading:
What Pronoun Is Used for the Holy Spirit: He, She, or It?
How Are We Created in the Image of God?
What Does it Mean That the Bible is God-Breathed?
How Did Jesus Treat Women in the Bible?
The Church Is the Bride of Christ — What Does that Mean?
What Does it Mean That God Is Our Abba Father?
Photo Credit: ©iStock/Getty Images Plus/Zolotaosen
---

Heather Riggleman is a believer, wife, mom, author, social media consultant, and full-time writer. She lives in Minden, Nebraska with her kids, high school sweetheart, and three cats who are her entourage around the homestead. She is a former award-winning journalist with over 2,000 articles published. She is full of grace and grit, raw honesty, and truly believes tacos can solve just about any situation. You can find her on GodUpdates, iBelieve, Crosswalk, Hello Darling, Focus On The Family, and in Brio Magazine. Connect with her at www.HeatherRiggleman.com or on Facebook.