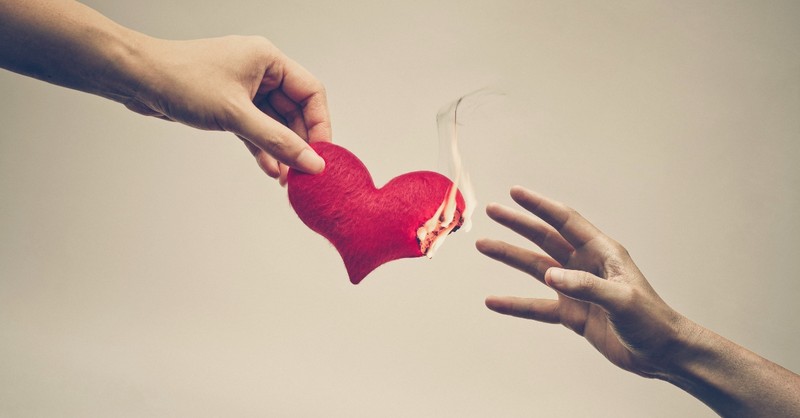 Since the beginning, the enemy of our souls has done his best to set a wedge between people and their loving Maker.
To Eve, he intimated that God was holding out on her… if the forbidden fruit served to make her like God and He had said she couldn't have any, then He must have foundational motives that were less than trustworthy, perhaps even cruel, to hold back from her that way.
From that moment on, it seems Satan has taken his place amongst the two of us (humans and God) to accuse us to God (remember Job? Satan's name literally means Accuser, also see Revelation 12:10) and God to us.
Violence in the Old Testament
When I was in seminary, I took an Old Testament history class. I was routinely stunned at the pagan practices that unfolded on the pages in history that the Bible refers to, and sometimes briefly explains, but the actuality of the events was far more graphic than Scripture detailed.
God never just smoked a people for having graven images in their entryway. People were committing X-rated, public acts with adults, but also children, and burning children alive in the public square to honor these graven images they kept in their entryways.
To be honest, I was shocked at the depth of the darkness of these rituals but also that God waited as long as He had to stop them.
If you could have been transported back in time to watch the events that led to the times in Scripture that God administered justice, you would have been screaming that He had been unjust to let it go on for so long.
But He did. He sent His prophets to speak for Him. Adjuring them to return to ways of blessing. But they didn't. And after generations of patience, He would act.
After relooking at all those assumptions that the God of the Old Testament was cruel and punishing, I realized how easily I can get tricked by the Enemy into accusing God in my heart.
If with some study and learning, I could see that God's "so-called cruelty" in the Old Testament was actually belabored patience and that stopping the acts of violence and destruction was actually an act of love and protection, then it begged the question: What else had I been hasty to draw wrong conclusions about God in my own life?
There were times I had been protected, but also times I hadn't. Times blessing flowed, and seasons of wretched aloneness and spiritual frustration. Dreams died. Prayers for desires that lined up with God's Word came back empty. Had God been cruel then? Was He less than loving in those moments?
Was I secretly holding those experiences against God, the same way we can take the Sunday school understanding of the story of Noah's Ark and in our hearts wonder what kind of God does stuff like that? Maybe we voice it out loud or maybe it just festers in some quiet corner of our soul in a more church "appropriate" way.
Perception Vs. Reality
I've had more than one relationship with an "accuser." The sociopathic narcissistic type. It's head-spinning awful. Up gets reported as down, in as out, and you get so twisted up inside you can't see straight. Unfortunately, whether we are aware of it or not, we all have a relationship with the primary narcissistic Accuser.
We had one before we were even born. His words swim around us so prolifically it's like fish swimming in water and not knowing they are wet. And he is constantly baiting us to accuse, so we can be like him, trying to twist the image of our Creator out of us, until we reflect him instead of God. And the bait to accuse God inside our hearts is easy to take.
I gave a women's Bible study message about deception and the illustration I used was strawberry ice cream. I could pass out strawberry ice cream cups (or strawberry candies), ask everyone to taste it, and tell me what gave the ice cream its flavor.
This was some years back before most people were so aware of food industry chemicals. And everyone was sure it was strawberries. But it wasn't strawberries. There were no real strawberries in that cheap ice cream or candy.
It was red food dye with a chemical cocktail; chemicals, that were in fact used in the making of antifreeze for your car. The fake had been swirled around until it seemed so real you could taste it and be sure it was strawberries when it wasn't even close.
Satan does this between us and our Lord. He twists experiences we have until we aren't sure God is trustworthy at all. Perhaps the question inside us gives birth to an all-out hostility toward God and we dare to remove Him as Judge and put ourselves in that seat to accuse God.
If we want to know who God is, we are wise not to look to the whisperings of the accuser, but to the Words of Scripture. The God of the Old Testament declared His great love over His children. The God of the New Testament showed that love more than He said it. He is the same yesterday, today, and forever (Hebrews 13:8).
He is the God who saved Rahab and made her so completely a part of His family that she is in Christ's lineage. And the same God who met Hagar in the desert and removed shame from the woman by the well. He came to GIVE life and to BE life to us. Satan comes only to kill, steal, and destroy (John 10:10).
Let's not be unwise about his age-old schemes. God has told us in His Word who He is. If our experiences challenge that, then we ought to pray for wisdom to see our circumstances with more clarity, rather than being quick to accuse God.
I Am Who I Am
If when we read the Bible, we feel concerned about God's character because of how He dealt with people, we are wise to learn more about the people. Truth sets us free (John 8:32). We can be sure that God is not cruel.
He is love. But in those moments when we can't see His love, let's be honest about it. Let's pray about it. Let's seek His face about it and turn away from the bait of the enemy.
For further reading:
Did God Condone Violence Found in the Old Testament?
What Does it Mean That God Is Able?
What Does it Mean That God Is Not the Author of Confusion?
Will God Really Meet All My Needs?
What Does it Mean That God Works in Mysterious Ways?
Why Doesn't God Heal Everyone?
Photo Credit: ©iStock/Getty Images Plus/weerapatkiatdumrong
---
April Motl is a pastor's wife, homeschool mom, and women's ministry director. When she's not waist-deep in the joys and jobs of motherhood, being a wife, and serving at church, she writes and teaches for women. You can find more encouraging resources from April here and here.