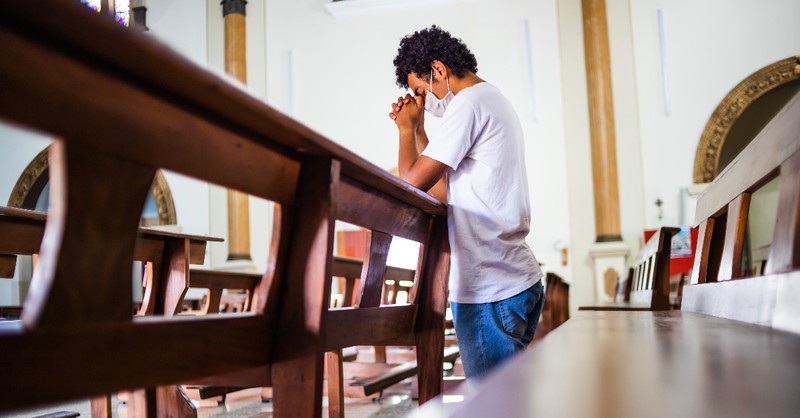 In Hebrews 12:18–24, we observe a dramatic scene in Bible geography. The writer of Hebrews has shown us two mountains in succession. First was Mount Sinai, from which the law was given to the exodus generation.
It was a mountain of foreboding, striking out with lightning and fire, darkness and gloom. Its message was the danger of drawing near to God in his holiness. Even Moses trembled with fear at the sight.
Then we were shown the same scene after Christ came to take away the storms of judgment after the darkness was pierced with the light of the gospel.
Sinai became Zion, the mount on which rest the City of God and the church of his firstborn. Cries of fear have given way to songs of joy. The festal voices now invite us to draw near in faith unto eternal life.
On the basis of what we have seen, the writer of Hebrews intends for us to make some reflections about life and eternity. With this sight in our eyes and this sound in our ears, he exhorts us, "See that you do not refuse him who is speaking" (Hebrews 12:25).
Given the glorious prospect set before us in the gospel, it would be, he says, the gravest folly to gaze upon this, to hear this call, and yet to turn away.
See to It
Hebrews 12:25–29 completes the fifth and final exhortation against the danger of apostasy, a concern that has preoccupied our writer throughout this letter (Hebrews 12:25). "See to it" is a favorite expression of his, denoting watchfulness for real and grave danger.
This is his greatest concern that some might deny the faith under the threat of persecution among the number of professing believers in this community.
The point he makes in Hebrews 12:25 is one he has made before. He is arguing from the lesser to the greater, from Mount Sinai to Mount Zion.
If the Israelites did not escape the most severe punishment when they hardened their hearts toward God's revelation from Mount Sinai, how much greater is the punishment for those who do not heed the gospel, which comes to us from the heavenly Mount Zion!
This is similar to what he argued in Hebrews 12:2-2. There is no middle ground in the things of God.
Shaken
Hebrews 12:25 argues from the lesser to the greater, from the law to the gospel. Our writer hopes to impress upon his readers the eternal significance of the choices that lie before them. This leads him to a second argument (Hebrews 12:26).
Here is another comparison, starting with the violent scene at Mount Sinai. There God shook the earth. As Psalm 68:8 says, "The earth quaked, the heavens poured down rain, before God, the One of Sinai."
That shaking of the earth at Sinai, the writer says, pointed forward to a greater shaking, one that will impact everything (Hebrews 12:26). The writer further explains this in Hebrews 12:27, which is a quotation of Haggai 2:6–7.
We are reading a prophetic history lesson, a reminder that one day this present-created realm will be shaken by God, leaving only those eternal things that are of him. Practically all the New Testament writers make this point.
John writes in his first epistle, "The world is passing away along with its desires." All the things that people live for, all that we strive toward that is of the world, will ultimately come to nothing. In contrast, John exhorts, "But whoever does the will of God abides forever" (1 John 2:17).
Peter likewise writes of the judgment that will come upon the world after Christ returns (2 Peter 3:10). Paul puts it perhaps most succinctly: "For the present form of this world is passing away" (1 Corinthians 7:31).
With Reverence and Awe
While the gospel gives us a better revelation than that received at Mount Sinai, salvation through God's grace in Jesus Christ, it is not a different God who speaks in this age.
God is unchanging. He is now as he always has been, which means that he is still holy and exalted, awesome in his glory. He is still "a consuming fire."
The gospel invites us to draw near to God, to live upon his mountain in the city he has prepared. Yet, it is also true that God's holiness places an eternal distinction between the Creator and the creature.
Hebrews 12:29 reminds us of Exodus 3, where Moses saw the fire burning within the bush. God called Moses to come near but then said to him, "Do not come near; take your sandals off your feet, for the place on which you are standing is holy ground" (Exodus 3:5).
The imagery of God as a raging fire speaks of his holiness and the reverent fear with which we must always treat him. God can never be taken lightly. Even when the threat of his wrath has been removed by the cross of Christ, he is not a tame God; he is always dangerous.
If you are going to have the thirst of your soul filled by the waters of eternal life, then you are going to have to deal with this kind of God. He will not move out of the way for you. He will not become a more palatable, a chummier kind of God.
He will never be safe. But he is the Savior, the God of majesty and grace, the God who shakes the heavens and earth but gives to his own a kingdom that cannot be shaken.
Hebrews 12:29 recalls the fires of Mount Sinai, citing a statement made by Moses in Deuteronomy 4:24. Moses was warning the tribes about apostasy and idolatry, a betrayal of the true God for the false gods of this world (Deuteronomy 4:23–24).
Never think that allegiance to God is a light matter, for he is jealous of his people's affections. He is a consuming fire who purifies all with whom he comes into contact.
God being the kind of God he is, the two essential ingredients to true spirituality are those found in Hebrews 12:28: Gratitude and awe. As creatures before the Creator, we must tremble with fear. We must reckon on his holiness with godly awe that produces reverence in all our dealings with him.
But to awe, we must add thanksgiving. We are sinners redeemed by the hand of mercy, enemies who are reconciled by love, rebels who are made children and heirs of God's eternal kingdom. Realizing this must surely draw forth gratitude from our hearts for the gifts we have not deserved.
These two attitudes are given in the Bible as the yardsticks by which we may assess all our worship, all our works, all our lives as they are offered up to him. "Let us be grateful," not wishing for the world and stirring his jealous anger; "let us offer to God acceptable worship, with reverence and awe," not forgetting that this is the holy God of heaven, "a consuming fire."
For further reading:
What Is a Martyr? Definition and Meaning
What Is the Biblical Significance of Mount Zion?
Why Is Reading the Bible in Context Important?
What Does it Mean That God Is a Consuming Fire?
What Are the Most Important Things to Understand about the Nature of God?
Photo Credit: ©iStock/Getty Images Plus/Jair Ferreira Belafacce
---
Dave Jenkins is the Executive Director of Servants of Grace Ministries, the Executive Editor of Theology for Life Magazine, and the Host of the Equipping You in Grace Podcast and Warriors of Grace Podcast. He received his MAR and M.Div. through Liberty Baptist Theological Seminary. You can follow him on Twitter at @davejjenkins, find him on Facebook at Dave Jenkins SOG, Instagram, read more of his writing at Servants of Grace, or sign to receive his newsletter. When Dave isn't busy with ministry, he loves spending time with his wife, Sarah, reading the latest from Christian publishers, the Reformers, and the Puritans, playing golf, watching movies, sports, and spending time with his family.