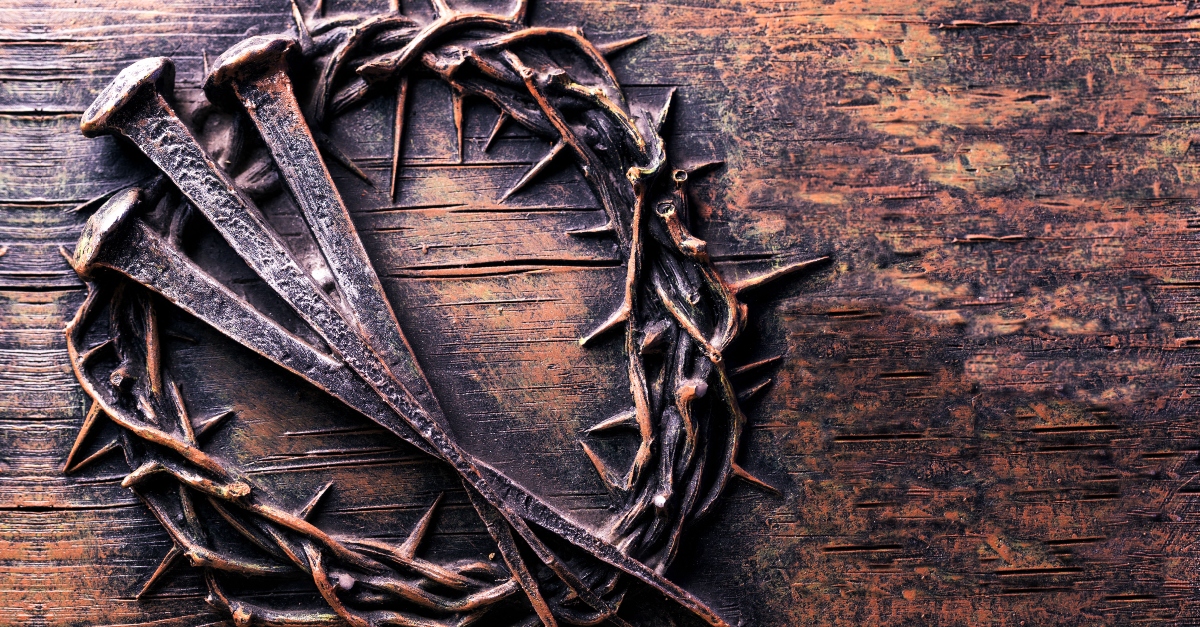 Sin means to miss the mark and can refer to doing something against God or another person (Exodus 10:16). Here are some other ways the Bible references sin:
Every human is a sinner by nature (Romans 3:6-7; Romans 5:12) and by choice (Psalm 51). Iniquity left unchecked leads to willful sin, which is accompanied by having no fear of God. The build-up of unrepentant sin is pictured as a cup of iniquity being filled to the brim (Genesis 15:16; Revelation 17:16). Continued iniquity leads to unnatural affections and desires, which leads to a reprobate mind, which Romans 1:28-32 vividly portrays. The sons of Eli are examples of reprobates whom the Lord judged for their iniquities (1 Samuel 3:13-14). Rather than repent, Eli's sons continued in their sin until repentance was no longer possible.
Sin and Trespass
The sin nature we've previously discussed in this article leads to trespassing. A trespasser is someone who crosses a line or climbs a fence; they should not cross or climb. Such a trespass may be intentional or unintentional. Peter, for example, trespassed when he denied Jesus (Luke 22:34; 56-62). Every single human being crosses the line in thought, word, or attitude many times a day and should be quick to forgive others who do the same (Matthew 6:15).
Sin and Transgression
Transgression means presumptuous sin. To transgress is to disobey intentionally. Samson deliberately broke his Nazarite vow by touching a dead lion (Numbers 6:1-5; Judges 14:8-9) and allowing his hair to be cut (Judges 16:17). By doing so, he committed a transgression. David was referring to this kind of sin when he wrote in Psalm 32:1, "Blessed is the one whose transgressions are forgiven, whose sins are covered" (Psalm 32:1). When we knowingly run a stop sign, tell a lie, or blatantly disregard an authority, we are transgressing.
Sin and Iniquity
Iniquity means an intentional choice, so to commit iniquity is to continue without repentance. An example of iniquity is David's sin with Bathsheba that led to the killing of her husband, Uriah (2 Samuel 11:3-4; 2 Samuel 12:9). In Psalm 51, a Psalm of repentance, David cries out, "Wash away all my iniquity and cleanse me from my sin" (Psalm 51:2).
When we realize that we have sinned, we have a choice. We can either see it for the evil it is and repent or not. When we do see sin for what it is, we are to seek the forgiveness and cleansing of God (Jeremiah 33:8; 1 John 1:9). Our other response to trespass is to harden our hearts and go deeper into habitual sin. Lists of iniquity are given in 1 Corinthians 6:9-10 and Galatians 5:19-21, which describes sins that can so consume people they can be identified by that lifestyle. The Psalms help readers understand the difference between sin and iniquity when they ask the Lord to forgive both (Psalm 32:5; 38:18; 51:2; 85:2).
David's sin of lust led to the hardening of his heart by committing adultery and then murdering Bathsheba's husband (2 Samuel 11:14-15). At this point in David's life, iniquity had taken over his life. Only later, when confronted by the prophet Nathan, did David repent with sorrow.
Examples of Transgression from History
In his classic biography, Confessions, Augustine of Hippo writes of a situation from his adolescence where he and some friends stole pears from a neighbor's orchard. Augustine, in reflecting on this situation, is full of shame, recalling he didn't need the pear and had access to better pears. Augustine threw the stolen pears away and feasted, he says, "only on the wickedness" of the act.
We may think we can get a thrill out of sin because the rules do not apply to us. In Crime and Punishment by Fyodor Dostoyevsky, one of his characters, Raskolnikov believes what he did with sin didn't matter. Raskolnikov saw himself as a man like Napoleon, who would do great deeds, but his greatness puts him beyond good and evil. Instead, he is really a poor man who hatches a plan to murder and rob a pawnbroker. Upon being discovered, Raskolnikov is forced to murder the pawnbroker's sister as well. The guilt of the whole situation gnaws at Raskolnikov throughout the novel.
Examples like Augustine and Raskolnikov provide illustrations of the truth about the Bible's teaching of sin. When we sin, we think we are our own master and creator, but the very act of sin shows that we are owned by the Creator God, whose authority we live under. The Apostle Paul, in Romans 2:14-15, teaches that the law of God is written on every heart, and the conscience of man testifies that everyone knows the law. The Lord has revealed Himself in Scripture, and His creation, which makes us without excuse for knowledge of God (Romans 1:18-20).
Human's don't break the law just because. Instead, they do it because they find enjoyment in seeking pleasure outside of God, but later, when guilt and shame creep in, they have to deal with the consequences of their lawless living.
The Conscience and Forgiveness in Christ Alone
The human conscience is a gift from a good, holy God to show us our sins and to drive us to the Lord. In the person and finished work of the Lord Jesus, there is forgiveness because Jesus paid for everyone's sin in their place and rose again. Rather than excusing, minimizing, or deflecting our sin, let the people of God give thanks for the gift of conscience and confess our sin to the Lord, who alone forgives when we transgress against Him.
©iStock/Getty Images Plus/bymandesigns
---
Dave Jenkins is the Executive Director of Servants of Grace Ministries, the Executive Editor of Theology for Life Magazine, and the Host of the Equipping You in Grace Podcast and Warriors of Grace Podcast. He received his MAR and M.Div. through Liberty Baptist Theological Seminary. You can follow him on Twitter at @davejjenkins, find him on Facebook at Dave Jenkins SOG, Instagram, read more of his writing at Servants of Grace, or sign to receive his newsletter. When Dave isn't busy with ministry, he loves spending time with his wife, Sarah, reading the latest from Christian publishers, the Reformers, and the Puritans, playing golf, watching movies, sports, and spending time with his family.