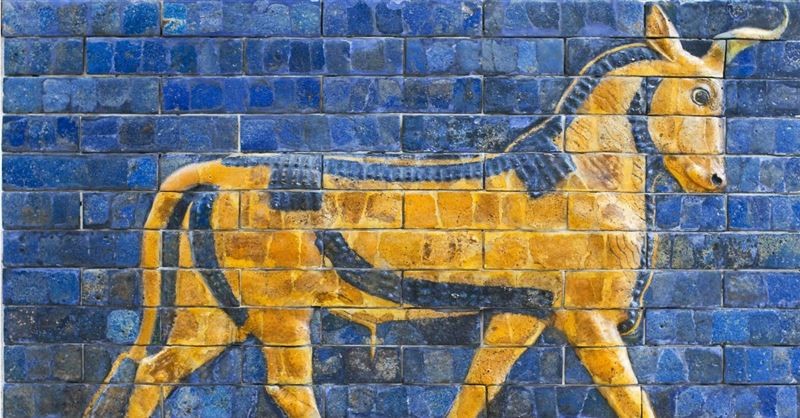 What is the Golden Calf Bible Story About?
In Exodus 32 an odd event took place after the Israelites escaped Egypt.
While the Egyptians were on their heels, God split the Red Sea, and the Israelites passed through safely. Once they made it to the other end unharmed, God drowned the Egyptians in the Red Sea. Then in the desert, as Moses was on Mount Sinai retrieving the 10 Commandments, the Israelites did what we often see in the Old Testament.
They got impatient.
When Moses seemed to take a long time in returning from the mountain, the Israelites turned to Moses' brother Aaron and asked him to make an idol for them – a physical idol, like the ones they had seen in Egypt. In essence, they'd grown impatient with their God to respond, so they wanted another one fashioned in the meantime so they could worship it.
Aaron obliged them and made a golden calf out of the golden earrings they wore—which likely were the very same treasures the Egyptians gave them after God rescued them out of Egypt (Exodus 12:35).
Why was the chosen symbol a calf? Bull and calfs were a traditional animal sacrifice in that time and symbolized strength and fertility. Many gods in Egypt were fashioned after bulls, so the golden calf was a natural choice for the Israelites coming out of Egypt. The golden calf represented God's power for having delivered the Israelites from Egypt.
By the time Moses descended Mount Sinai, the Israelites had sacrificed to this idol and indulged in revelries. The situation had gotten out of control.
Consequences of the Golden Calf
Why did the Israelites choose a calf? One could point to the gods of other nations for some possible inspiration for this.
The Egyptian god, Hathor, a bull goddess of joy, celebration, and love, could've had some sway over the shape this idol took.
Another Egyptian deity, Apis (a calf) could've served as an inspiration.
One could also point to Canaanite literature's El (a bull), the chief god or Baal, an ox.
But scholars sometimes disagree with this. In the chapter above, it seems Aaron is throwing the festival in honor of Yahweh (Exodus 32:5), at least initially.
This article suggests the Israelites, at first, didn't intend for the calf to replace God, but instead Moses. Either way, the worship which soon followed shows they had a few intentions far beyond just having the golden calf serve in Moses' place.
Golden calves make an appearance once again when Jeroboam, a contender for the throne of Israel, makes two of them (1 Kings 12:25-33).
In both instances, idol worship of calves ends in massive destruction.
When Aaron made a calf, the Israelites lose three thousand people.
Jeroboam, who led the Northern Kingdom, led it in a direction of destruction and a very bad line of kings when the Israelites ultimately were taken over by the Assyrians in 722 BC.
Although the inspirations for these idols may have come from surrounding religions, bull, cow, and calf idols seem to dot the Old Testament narrative. No wonder the first two commandments seem to speak out against gods and idols.
The Deeper Meaning of the Golden Calf
1. The Israelites took gifts from God and turned them into an idol.
Whether they intended to replace Moses as a mediator or make an outright idol, they took the gold that came as a gift from Egypt (a gift from God, essentially) and turned it into an abomination.
Although this may seem removed from our current day and age—after all, we don't worship golden calves on Sundays—how often do Christians take gifts God has bestowed upon us and turn to worship those instead of the Creator Himself?
2. The Israelites got impatient.
They waited for a long time for Moses to return from Mount Sinai with the 10 Commandments. Because God wouldn't make a move on their schedule, they decided to make their own and force His hand.
Although we have God's commands in print (our Bibles) we can often get frustrated when He doesn't seem to move according to our timetable. So we try to force His hand via other means. We might try to pursue certain opportunities or relationships when He has not given us the permission to do so yet.
3. The Israelites tried to justify their reasons for setting up the golden calf.
Later in the passage, when Moses confronted Aaron about why he built the calf, Aaron offered nothing but excuses.
Often, when we worship idols in our lives, we can create our own form of logic for why we are justified in worshipping anything less than God.
Hope Bolinger is a literary agent at C.Y.L.E. and a graduate of Taylor University's professional writing program. More than 350 of her works have been featured in various publications ranging from Writer's Digest to Keys for Kids. She has worked for various publishing companies, magazines, newspapers, and literary agencies and has edited the work of authors such as Jerry B. Jenkins and Michelle Medlock Adams. Her column "Hope's Hacks," tips and tricks to avoid writer's block, reaches 6,000+ readers weekly and is featured monthly on Cyle Young's blog. Her modern-day Daniel, "Blaze," (Illuminate YA) released June 2019 and the sequel "Den" releases a year from now. Find out more about her here.
Photo Credit: GettyImages/ggenova