The Bible is the most translated and widely read book of all time, but why was the book written? God inspired its authors for so many reasons including knowledge and encouragement for his people. Let's take a closer at the purpose of the Bible.
The Bible Was Written to Inform God's People
God has weaved a miraculous story since the beginning of time. In school, students learn about the past. God wants us to also know his history. Long ago, stories were passed down orally. The Bible exists as a written account so the stories would be preserved for all of time. Students study world history in school to gain a better understanding of the world. As Christians, we analyze the Bible to learn more about God's story.
For example, in Genesis, God teaches us about free will and the fall of men with Adam and Eve's story in the Garden of Eden. From this story, we learn that we also have free will and God wants us to choose him. We can understand where our sinful nature comes from and why we need Jesus in the first place. In this same story, God teaches about the deceit of Satan, how he can lie and make choices that go against God seem better than they are. Genesis 3:13 says "The woman said, 'The serpent deceived me, and I ate.'" This gives insight into the very beginning of Satan's ways and how we need to resist him throughout our lives.
In the New Testament, the words document Jesus's time on earth, including the critical story of the Gospel message which is central to the Christian faith. The second part of the Bible includes many letters written from apostles to fellow Christians. The followers of Jesus went through various struggles themselves and their words can help encourage and inspire others.
The Bible Was Written to Inform its Readers about God's Nature
There are so many aspects to God's nature. His character is complex and difficult to understand, but by diving into the Bible, we begin to discover who he is. Stories preserved from the past show us the different aspects of God's nature.
There are times God becomes angry, like when he sent a flood to wipe out the corrupt people on Earth. In Genesis 6:11-13. Moses writes "Now the earth was corrupt in God's sight and was full of violence. God saw how corrupt the earth had become, for all the people on earth had corrupted their ways. So God said to Noah, "I am going to put an end to all people, for the earth is filled with violence because of them. I am surely going to destroy both them and the earth."
At the same time, God is compassionate and fair. Because Noah and his family honored God, they were preserved. God told Noah to build an ark to protect his family from the flood. Genesis 7:1 goes on to say "The Lord then said to Noah, "Go into the ark, you and your whole family, because I have found you righteous in this generation."
God is faithful, documented in the book of Exodus when he equips Moses to lead the Israelites out of Egypt and into the Promised Land. At the same time, God is just, shown when he doesn't allow Moses to enter the Land of Canaan because he turned from God during his 40 years in the wilderness.
By examining the stories in the Bible, we can learn more about God's Nature. Our human brains may never be able to fully understand God, but His Word gives us clues when we see how God has interacted with his people over generations.
The Bible Was Written to Equip God's People
Ephesians 6: 13-17, "Therefore put on the full armor of God, so that when the day of evil comes, you may be able to stand your ground, and after you have done everything, to stand. Stand firm then, with the belt of truth buckled around your waist, with the breastplate of righteousness in place, and with your feet fitted with the readiness that comes from the gospel of peace. In addition to all this, take up the shield of faith, with which you can extinguish all the flaming arrows of the evil one. Take the helmet of salvation and the sword of the Spirit, which is the word of God."
Christians need to be dressed in the armor of God to fight the battles of this world. Where do we get our equipment? Christians gain their protective covering from reading God's Word and being familiar with his truth, righteousness, peace, faith, and salvation. We learn about these tools from the Scripture God breathed himself.
When Jesus himself was tempted by Satan, he used the Word of God as his ammunition. God's Word is truth. Anything that goes against the Bible is therefore a lie. To be able to recognize the lies, we first need to know the truth ourselves by reading Scripture.
The Bible Was Written to Encourage God's People
God knew this life wouldn't be easy. In John 16:33, Jesus says "In this world you will have trouble. But take heart! I have overcome the world." When we read God's Word, we see story after story of God's people experiencing hardships. It's encouraging to know other Christians have been through difficult situations like we have.
God always fulfills his promises, but sometimes the delivery takes longer than we'd like. We can be encouraged by others who waited on God. Abraham and Sarah anticipated God's promise of a child and finally bore a son when Abraham was 100 years old. In the story mentioned above, the Israelites walked through the wilderness for forty years before they arrived at the Land of Canaan.
The Psalms of the Bible in particular can be a form of encouragement. David and the other writers of the book cover a wide array of emotions from desolation to jubilation. Even though the words were written many years ago, Christians today and still relate and find comfort in them.
The Bible Enables a Saving Faith in Jesus Christ
Central to the Bible is the Gospel message. We can see through the books of the Old Testament the sinful nature of man. We learn there needed to be a sacrifice to be made right with God. God sent his own son, Jesus, to be that sacrifice. In John 1:12, the apostle writes "Yet to all who did receive him, to those who believed in his name, he gave the right to become children of God."
When we believe in Jesus and his story, we become his children. As his heirs, we receive the Holy Spirit to be with us each day we're alive on earth. When our time in this world is done, we will be raised with Christ in victory and spend eternity with him.
The Purpose of the Bible
The Bible serves many purposes. It's our direct line to God's words and stories from the beginning of time. Through the stories, we learn who God is. We are equipped with the power and truth of Scripture and encouraged by others who have suffered. God's Word teaches the Gospel message and how those who follow him are invited to be in community with him forever.
In 2 Timothy 3:16-17, Paul writes "All Scripture is God-breathed and is useful for teaching, rebuking, correcting and training in righteousness, so that the servant of God may be thoroughly equipped for every good work." God knew his people would need help in this world, that we couldn't walk through it alone. He has given us the gift of His Word. Our job is to read the Bible so encouragement and teachings may be etched on our hearts.
Photo Credit: ©Getty Images/5657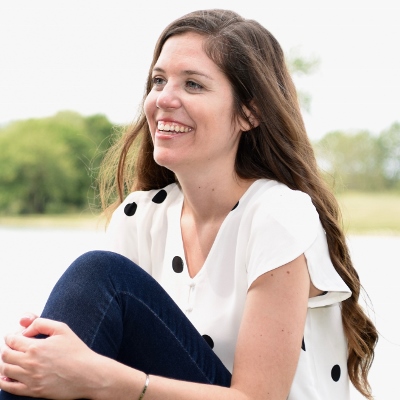 Jenna Brooke Carlson is an elementary dual language teacher in the Chicago suburbs. As a member of American Christian Fiction Writers and Word Weavers, she enjoys spending time with other writers and perfecting her craft. Her debut novel, Falling Flat, spreads the message that healing can occur, even after tragedy. Along with writing, she's pursuing her dreams of creating a community of brave young women, who she can encourage to live out their dreams amid challenges and imperfection. Her days are busy, but she's determined she can conquer anything with a fuzzy blanket and a hot cup of tea. To find out more about Jenna, visit her website at jennabrookecarlson.com.
LISTEN: Three Common Obstacles to Understanding the Bible
The views and opinions expressed in this podcast are those of the speakers and do not necessarily reflect the views or positions of Salem Web Network and Salem Media Group.
WATCH: 5 Verses on Strength for When You Feel Weak
Video stock video and music probided by SoundStripe