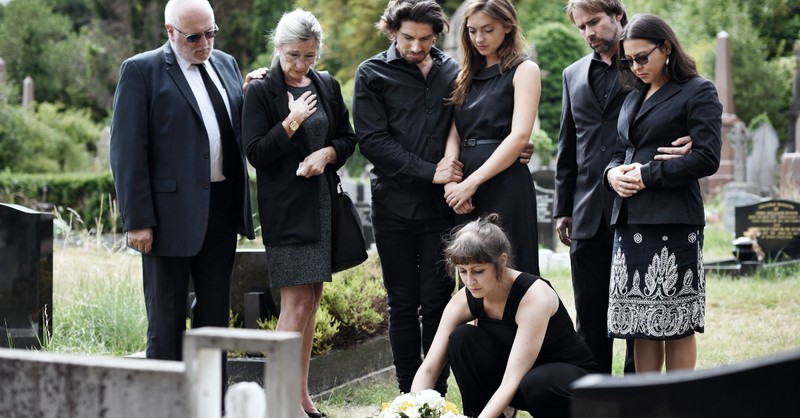 The beatitude "blessed are those who mourn" comes from Jesus' Sermon on the Mount. This beatitude is one of many that Jesus shared with His listeners. The Lord says, "Blessed are those who mourn, for they will be comforted" (Matthew 5:4).
From Jesus' words, we are given deep comfort and security. These words are supposed to encourage and support us, yet it can be hard to see this unless we know what this passage means.
Blessed Are Those Who Mourn
Jesus says in Matthew 5:4 that those who mourn are blessed, and they will be comforted. While we normally interpret those who mourn as those who are crying over various things that cause them grief, such as a loss of a loved one, mourning in this passage does not mean the same thing.
Rather, the way Jesus uses the word "mourn" is in the way of people mourning over their own sins. Therefore, when the Lord says, "Blessed are those who mourn, for they will be comforted" (Matthew 5:4), he is referring to those who mourn over their own sin, for they will be comforted.
When we mourn over our sins, it brings our hearts to repentance. This is why the Lord says we will be comforted when we mourn because God will forgive us our sins and give us comfort in our hearts. If we mourn over our sin, it demonstrates the truth that we see sin the same way God sees it — completely wicked, vile, and evil.
By feeling guilt and mourning over our sins, it shows that we are having great Christian growth and that the Holy Spirit is working in our hearts. The Holy Spirit works inside us to convict us and cause us to turn away from sin.
Since we have established the meaning of mourning in reference to Matthew 5:4, we have also to understand what "blessed" means in this context. Often, we don't think of people being blessed if they are in mourning; however, since we know the proper definition of mourning in the context of Matthew 5:4, it helps shine a light on the meaning of "blessed" in this passage also.
When the Lord tells us we are blessed if we mourn, He is telling us that we are indeed blessed if we mourn over our sins because it shows we are seeing sins the same way He sees sin.
The Matthew Henry's Concise Commentary informs us, "Those that mourn are happy. That godly sorrow which worketh true repentance, watchfulness, a humble mind, and continual dependence for acceptance on the mercy of God in Christ Jesus, with constant seeking the Holy Spirit, to cleanse away the remaining evil, seems here to be intended."
As the Matthew Henry Concise Commentary tells us, those that mourn over their sin produce godly sorrow. This can bring us back to another key passage of Scripture. Paul tells us that godly sorrow produces repentance, yet worldly sorrow brings death (2 Corinthians 7:10).
Therefore, those who mourn can be full of joy because our deep mourning and sorrow will lead us to repentance, lead us to the mercy of God, and causes us to follow after the leading of the Holy Spirit.
Anything that causes us to follow after God and to pursue His heart brings joy to God. He wants us to consistently be growing in Him and reflecting His Son to the world.
Blessed often is connected with happiness or joy, and through the beatitudes, including the beatitude of "blessed are those who mourn," the Lord teaches us that lasting happiness and joy cannot be found apart from Him.
The Other Beatitudes
Throughout the other beatitudes, God says those who are poor in spirit, the meek, those who hunger and thirst for justice, the merciful, the pure in heart, the peacemakers, and those who are persecuted for righteousness are all blessed.
By all practical means, most individuals would not consider someone blessed under these circumstances, yet that is exactly what the Lord is telling us.
Those who don't seem as though they are blessed are the ones who are truly blessed in the Lord. As we have established, those who mourn are blessed because they mourn over their own sin, and they take an active incentive to repent of the sin.
The Lord also tells us that those who mourn will be comforted. God Himself comforts us and gives us the peace that only He can provide. When we mourn and acknowledge our sins before God, He is faithful, and He will comfort our hearts.
Simply feeling guilt and mourning over sin demonstrates to us that we are acknowledging our sin and we see it as repulsive. The more we get to know God and grow in Him, the better we will get at recognizing sin as it is and repenting of it.
We are truly blessed to have come to the point in our Christian walk that we can see sin for what it is and mourn over it. Sin causes God pain, and He absolutely hates sin. Sin is evil, and it is the exact opposite of God.
God is complete goodness, love, and perfection. He never does anything wrong, nor does He ever sin. He sees us when we sin, and He abhors it, but He will forgive us if we go to Him in repentance and ask for forgiveness.
Even though we might be mourning for a time because of our sins, God will comfort us with His love and peace. This mourning will lead us to repentance and lead us to obey God better.
The world and the things of the world will try to cause us to rationalize our sins. Instead of mourning over our sins, the world will try to cause us to rationalize or see our sins as "no big deal." The truth is that all sin is sin, and all sin is equally sinful to God.
Through this passage of the beatitudes, we are told that those who mourn over their sin are truly blessed by the Lord. They are not those who rationalize their sin or act as though their sin is not a problem.
Instead, they are the ones who recognize their sin, mourn over it, repent, and turn to the Lord. These are those who are pleasing to God and bring glory to His Name.
What Does This Mean?
The next time you are feeling guilt over sin, and it leads you to mourn, turn to the Lord. Remind yourself of this passage in Matthew 5:4, and let it give you comfort. Though acknowledging sin is painful, God wants us to acknowledge and turn away from it.
By mourning, it will lead us to repentance and cause our relationship with God to grow stronger. The deep sorrow will also help prevent us from doing the same sin again because we know how painful it is to God and how much it hurts Him.
In this way, we are truly blessed to mourn over our sins because we are seeing sin for what it truly is, and we are no longer rationalizing it in our lives. Rather, we are mourning over our sins and pouring out hearts out to His comforting love.
For further reading:
How Do We Mourn with Those Who Mourn?
How Are Those Who Mourn Blessed?
What Should I Never Say to Someone Who Is Grieving?
Photo Credit: ©iStock/Getty Images Plus/Rawpixel
---
Vivian Bricker loves Jesus, studying the Word of God, and helping others in their walk with Christ. She has earned a Bachelor of Arts and Master's degree in Christian Ministry with a deep academic emphasis in theology. Her favorite things to do are spending time with her family and friends, reading, and spending time outside. When she is not writing, she is embarking on other adventures.