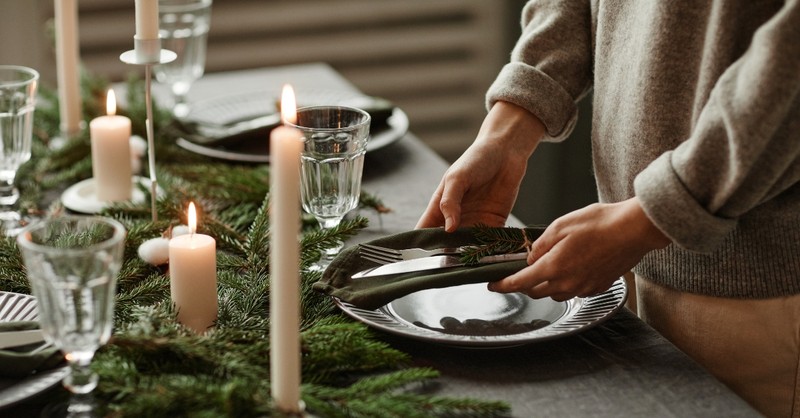 Psalm 23:5 says, "You prepare a table before me in the presence of my enemies. You anoint my head with oil; my cup overflows." This passage is part of the beloved psalm, Psalm 23. This psalm was written by King David, and it has become a favorite of many believers.
Within Psalm 23, David says God prepares a table before him in the presence of his enemies. While many of us quickly overlook this part of Psalm 23, it is an important verse within this psalm.
What Is the Context of Psalm 23:5?
Before understanding the exact verse of Psalm 23:5, it is important to understand the context of the verse. For the Psalms, it is best to read the psalm in its completion rather than reading one verse of the psalm.
If we only read one verse of the psalm, we are bound to become confused and miss the meaning of what the passage is trying to tell us. Therefore, Psalm 23 is connected to God being the Shepherd of His people.
While the concept of a shepherd is commonly lost today, during David's time, there was much emphasis placed on shepherds.
Shepherds would protect the lambs and other animals from predators. Just as shepherds protected their precious sheep from predators, God protects us as His children from predators.
Through God being his Shepherd, David says that he lacks nothing (Psalm 23:1). David says God safety protects him, leads him beside quiet waters, refreshes his soul, and guides him along the right paths (Psalm 23:2-3).
King David is confident in the Lord as he knows even if he walks through the darkest valley, God is with him and will protect him (Psalm 23:4). Since David knows this is true, he doesn't fear.
Right after David says he will fear no evil because God is with him, comforting him with the protection of His rod and staff, David says that God prepares a table before him in the presence of his enemies, but also God also anoints his head with oil and David's cup overflows (Psalm 23:5).
David ends his psalm by saying that God's goodness and love will be with him forever and that he will dwell in the house of the Lord forever (Psalm 23:6).
Since we have now understood the context of the complete psalm of Psalm 23, we can now start to understand what it means to "prepare a table before me in the presence of my enemies."
As established, the person who prepares the table before David in the presence of his enemies is the Lord.
Through David saying God prepares a table for him, he is acknowledging his dependence on God. David has full trust in God and knows that God will provide him with everything he needs.
Just as God provides the animals of the earth with food and shelter, David knows he can trust God to prepare a table before him. Throughout the Bible, we see God providing for Israel, as in the case of the manna that fell from heaven (Exodus 16:15).
Since this is true, David knows he can trust God and can fully depend on Him because God has never failed him. In the same way, we can fully depend on God and trust Him.
The Lord has proven Himself faithful, and if we look at our past, we cannot see a time God has let us down. While it is true that people have let us down, God never has, and He never will.
The concept of God preparing a table before David also reflects back to the connection of God being David's shepherd. Since God is the one who prepares a table before David, David is treated as the guest of honor of the Great Shepherd.
It is important to note that David doesn't only say God prepares a table before him, but David also says that God prepares a table before him in the presence of his enemies.
From this description, we can make the conclusion that even in the presence of his enemies, David feels confident in the Lord and trusts in Him. Though his enemies are present, David has no reason to fear because God is with him.
Since David is the honored guest, he would have felt special and beloved by God. Once again, we see God taking the role of a servant as He is the one serving, and David is the one being served.
It is also mentioned within the verse of Psalm 23:5 that God anoints David's head with oil and that David's cup overflows.
During the time of this writing, it was common for the host to anoint their honored guest's head with oil. This was a special honor and showed how important the individual was to the host. From this, we can see how much God loved David.
It was also common during Bible times that shepherds would use oil to help treat the sheep's wounds or injuries. This could be a connection to how God would heal David's wounds by anointing him with oil since David was a sheep of God's pasture.
We, too, are sheep of God's pasture, and similar to how God anoints David's wounds and injuries with oil, God does the same for us.
While he doesn't literally anoint us with oil, He does help us heal from wounds and hurts of the past and present. He will never leave us to endure pain on our own, as He is always there with us even if we don't feel Him.
We also see within Psalm 23:5 that David says his cup overflows. As this would imply, it means God gives him more than he could ever need. The saying "my cup overflows" shows just how much God had blessed David and continued to bless him.
It can also be connected once again to how God is the shepherd and David is the sheep. Shepherds used to give their sheep water to drink from a cup to help them when they were thirsty.
In this way, the shepherd was constantly taking care of the sheep even when the sheep wouldn't help itself. God is our great shepherd, and we are His sheep. Wherever He leads is where we need to follow.
What Does This Mean?
Therefore, the passage of Psalm 23:5 means that David is completely dependent on God, trusts Him completely, that he is God's honored guest, that he is completely kept safe by God even in the presence of his enemies, and that God will give him everything he needs.
With this thought in mind, we know we can trust God in every area of our lives. Even though it may be difficult at times, it is important that, like David, we have complete trust and dependence on God.
There will be times that we feel as though we are surrounded by enemies, yet God is always with us, and He is not going anywhere.
In the same way, God anoints us with oil and helps us heal from past pains and hurts. He also overflows our cup because of His great love for us.
While this doesn't mean we will obtain great wealth, own fancy cars, or everything will work out exactly the way we planned, it does mean that God gives us everything we need.
In fact, God has blessed us beyond anything materialistic because He has given us eternal life through placing faith in His Son, Jesus Christ. There is no greater blessing to be able to have the opportunity to spend eternity with our Lord and Savior. Each of our cups truly runs over every day.
For further reading:
What Does the Imagery of 'My Cup Runneth Over' Mean in Psalm 23:5?
What Is the Significance of 'The Lord Is My Shepherd'?
Why Are There Different Types of Psalms?
Photo Credit: ©iStock/Getty Images Plus/SeventyFour
---
Vivian Bricker loves Jesus, studying the Word of God, and helping others in their walk with Christ. She has earned a Bachelor of Arts and Master's degree in Christian Ministry with a deep academic emphasis in theology. Her favorite things to do are spending time with her family and friends, reading, and spending time outside. When she is not writing, she is embarking on other adventures.