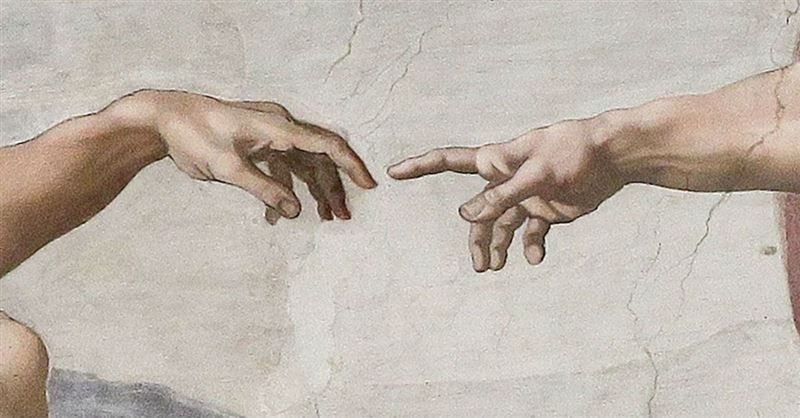 The Image of God: 'Imago Dei'
"Imago Dei" comes from the Latin version of the Bible, translated to English as "image of God."
"Image of God" is defined as the metaphysical expression, associated uniquely to humans, which signifies the symbolical connection between God and humanity. The phrase has its origins in Genesis 1:27, wherein "God created man in his own image..." This biblical passage does not imply that God is in human form, but that humans are in the image of God in their moral, spiritual, and intellectual essence. Thus, humans reflect God's divine nature in their ability to achieve the unique characteristics with which they have been endowed. These unique qualities make humans different than all other creatures: rational understanding, creative liberty, the capacity for self-actualization, and the potential for self-transcendence.
Imago Dei Definition
This is a longer definition of "Imago Dei" as provided by pbs.org:
The term imago Dei refers most fundamentally to two things: first, God's own self-actualization through humankind; and second, God's care for humankind. To say that humans are in the image of God is to recognize the special qualities of human nature which allow God to be made manifest in humans. In other words, for humans to have the conscious recognition of their being in the image of God means that they are the creature through whom God's plans and purposes can be made known and actualized; humans, in this way, can be seen as co-creators with God. The moral implications of the doctrine of imago Dei are apparent in the fact that if humans are to love God, then humans must love other humans, as each is an expression of God. The human's likeness to God can also be understood by contrasting it with that which does not image God, i.e., beings who, as far as we know, are without self-consciousness and the capacity for spiritual/ moral reflection and growth. Humans differ from all other creatures because of their rational structure - their capacity for deliberation and free decision-making. This freedom gives the human-centeredness and completeness which allows the possibility for self-actualization and participation in a sacred reality. However, the freedom which makes the human in God's image is the same freedom which manifests itself in estrangement from God, as the myth of the Fall (Adam and Eve) exemplifies. [,,,] humans can, in their freedom, choose to deny or repress their spiritual and moral likeness to God. The ability and desire to love one's self and others, and therefore, God, can become neglected and even opposed. Striving to bring about the imago Dei in one's life can be seen as the quest for wholeness, or one's "essential" self, as pointed to in Christ's life and teachings.
Meaning and Significance
Imago Dei, or Image of God, means in likeness, or similarity, to God. Humans are created with unique abilities, absent in all other creatures of the earth, that mirror the divine nature of God.
The significance of humans being created "in the image of God" is our responsibility to recognize and understand rationality and ability to create abstract conceptions from the natural world. This gives us the capacity to create a glorious peaceful world or a fallen chaotic environment, depending upon our motives and understanding. Just as Satan fell from God, we are capable of falling from God and suffering the consequences. We must realize our dual potential (good vs evil) and act in accordance with God's will and law to create prosperous and benevolent communities and nations.
Imago Dei (Image of God) in the Bible
Photo Credit: Wikimedia/Creation of Adam (Michelangelo) Detail
---
This article is part of our Christian Terms catalog exploring words and phrases of Christian theology and history. Here are some of our most popular articles covering Christian terms to help your journey of knowledge and faith:
The Full Armor of God
The Meaning of "Selah"
What is a "Concubine"?
Christian Meaning of Humility
Who are Gentiles? Biblical Meaning
What is Fornication?
Meaning of Shekinah Glory
The difference between Grace and Mercy