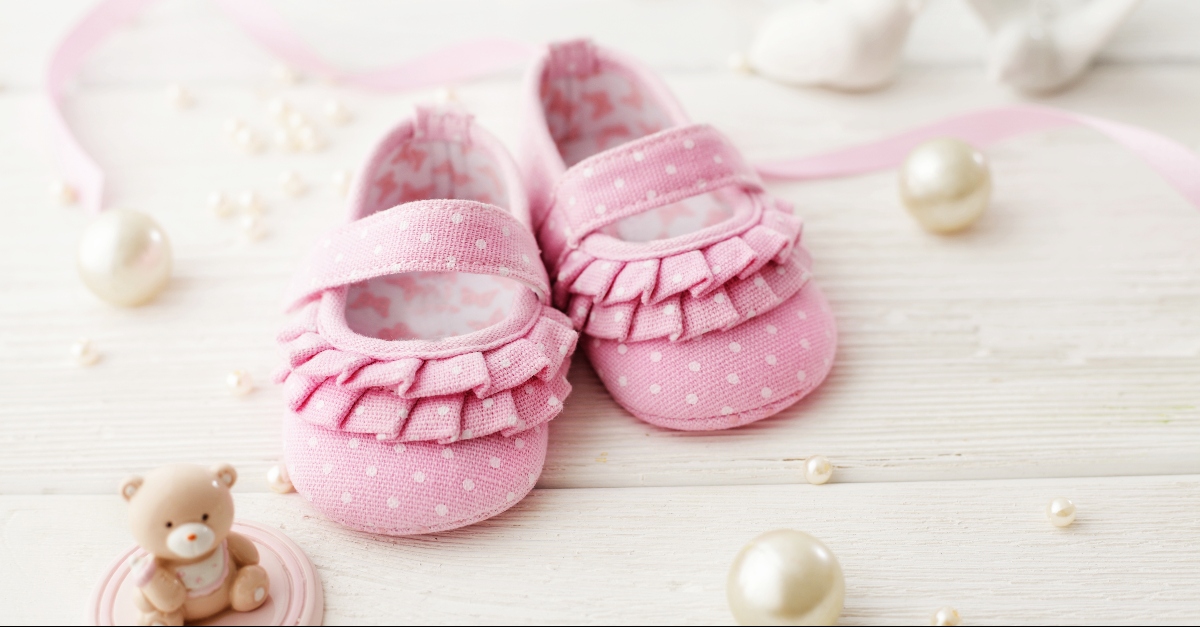 It's happened, you're pregnant! You've scoured the internet a few times when you were single or newly coupled, just to get a feel of what you like in anticipation of when, one day, you have a beautiful baby.
But this time, you're searching for real! You've already had a fantastic gender-reveal party that you filmed, posted to your various social media accounts, and it went viral — revealing — it's a girl!
Now you're ready to do a serious search for baby girl names. For Christians, the Bible is the source of God's Word, Salvation, and daily comforts. It's also become a great source for baby names.
The Bible reveals how much He loved His people and how they did great things to bring glory to the Lord. So, it's perfectly natural to want to use the names of the amazing women of the Bible and the virtues of the Christian faith.
Along with the great names and stories comes great meanings of these names in the original Hebrew, Greek, and Latin translations.
Below are the Top-10 biblical girl names this year:
1. Sarah- Hebrew Meaning "Princess"
Sarah is a beautiful name for any little girl who is a father's little princess.
Sarah was the mother of many nations, as she was married to the father of many nations, Abraham. Just as Abraham was Abram before God called him, Sarah was Sarai (Genesis 17:15).
Sarah is called "faithful." In Hebrews 11, it says, "And by faith even Sarah, who was past childbearing age, was enabled to bear children because she considered him faithful who had made the promise."
If you have a Sarah, you will have a laughing princess — one who is brave, supportive, and strong.
2. Faith- Latin Meaning "Loyalty, Belief"
Many names in the Bible not only come from the people but from virtues such as faith, hope, grace, etc.
One of these is Faith. Faith is the entire basis of our Salvation in Christ. "For by grace you have been saved through faith. And this is not your own doing; it is the gift of God, not a result of works, so that no one may boast" (Ephesians 2:8-9).
Jesus blesses those who believe in Him through faith, "Then Jesus told him, 'Because you have seen me, you have believed; blessed are those who have not seen and yet have believed"" (John 20:29).
Faith is a beautiful name that evokes belief, loyalty, trust, and promise.
3. Eden- Hebrew Meaning "Delight"
Eden is neither a person nor a virtue. Eden was the intended home for humanity (Genesis 2:8).
Also known as "the garden of the Lord" (Isaiah 51:3), God placed Adam and created Eve here to "work and keep it" (Genesis 2:15). It is where God physically walked with them (Genesis 3:8).
This was the place of the Tree of Life and the Tree of the Knowledge of Good and Evil. When Adam and Eve sinned, they were turned out of the home God created for them and He placed a cherubim with a flaming sword to guard the Tree of Life (Genesis 3:24).
Eden is a beautiful name and is on my personal list of baby names, because of its imagery of paradise, beauty, and creativity.
4. Mary- Hebrew Meaning "Rebellion, Bitterness"
At first glance, this name's meaning is not exactly an incentive to name your daughter, Mary, but when we see the woman behind the name, there is something absolutely beautiful.
The most notable Mary is the mother of Jesus. She was proclaimed: "Blessed are you among women" (Luke 1:42), "favored one, the Lord is with you!" (Luke 1:28), and "humble servant" (Luke 1:48).
She was the mother of the Savior of the world, the Son of God. Jesus loved and cherished His mother so much that upon His death, He gave her into the care of His most beloved disciple, "Woman, behold your son… Behold your mother!" John took Mary to his home that day as Jesus requested.
There are other Marys in the Bible who followed the Lord in faith. Other variations of the name Mary exist, including Miriam, Maria, Marianne, Merritt, Molly, and many more.
Any name that comes from Mary is a name that is cherished, respected, and blessed.
5. Rebekah- Hebrew Meaning "Captivating"
Rebekah/Rebecca or Becky/Becca are very popular names. Everyone at one time or another went to high school with a girl named Rebecca.
Rebekah was the wife of Isaac, the mother of Jacob (Israel) and Esau. The story of Isaac and Rebekah was one of those "meant to be" stories. Abraham sent a servant to find his son a wife.
The servant devised a sort of test to determine who the Lord would choose to be the wife of Isaac. When Rebekah came out and offered the servant water, she not only passed his test but exceeded it by watering his camels, revealing her kind and generous nature.
The name Rebekah is one of kindness, sweet-natured, and generosity.
6. Phoebe- Greek Meaning "Shining, Pure"
The name Phoebe became popular in the 90s from the show Friends. Phoebe is a quirky, one-of-a-kind character.
But long before this iconic show, Phoebe was a leader amongst women in the New Testament. In Romans 16:1-2, Paul introduces her, indicating that she delivered the letter. She was a deacon of the church in Cenchreae.
Paul asks for the church to pray for her as she was a benefactor to many including Paul. She was a leader in the church and visited those in her church with a kind, servant's heart, as Paul asks the people to receive her in their homes with love.
Phoebe is a unique name for any strong and giving girl.
7. Hannah- Hebrew Meaning "Gracious, Merciful"
Hannah is a name for any mother who has desired a child.
Hannah's story, in the Bible, is one of desire, promise, and faith. Hannah couldn't have children but desired one with all her heart. It was in Hannah's deepest cry to the Lord and her selflessness to dedicate her future child to the service of the Lord, that the Lord heard her cry and opened her womb. Hannah remembered her promise and gave her son, Samuel, to the Lord.
The Lord blessed her further with more children because of her faithfulness.
8. Grace- Latin Meaning "Favor, Blessing"
Grace is another virtue in the Bible that can be a great name for a girl.
Grace is the gift of salvation that God gives us through His Son. "For the grace of God has appeared that offers salvation to all people" (Titus 2:11).
Paul says that salvation is not by works, but by grace, "And if by grace, then it cannot be based on works; if it were, grace would no longer be grace" (Romans 11:6).
Grace is the perfect name for a baby girl, as she will be a gift from God.
9. Naomi- Hebrew Meaning "Beautiful, Agreeable"
Naomi is a great name for any mother to use, as Naomi was a good mother to Ruth in the Bible.
Naomi experienced loss as a mother. She lost her husband and both her sons and faced the prospect of losing her daughters-in-law. When Ruth vows to stay with her, Naomi brings her to Bethlehem.
In her dismay, Naomi helps Ruth in attracting Boaz. Boaz and Ruth marry and start a family, giving Naomi a new son and grandchild. Through Ruth's loyalty to Naomi, the start of the line of King David was fulfilled (Ruth 4:13-22).
Naomi is a reminder that even in the bleakest of times, God is good and gives more than we can ask or imagine (Ephesians 3:20-21).
10. Abigail- Hebrew Meaning "The Father's Joy"
Abigail or Abby is an adorable name for a girl.
Abigail, in the Bible, was one of the first wives of King David. Abigail is described as intelligent and beautiful. In the face of her husband Nabal's insult to King David, Abigail goes out to meet him to apologize for her husband's insolence.
Afterward, Abigail tells Nabal about her peacekeeping with David, and his heart fails him and dies. As word is sent to David, he praises the Lord and sends back for Abigail to be his wife.
The Lord and David saw something wonderful in Abigail. The Lord blessed Abigail in her faithfulness and peacemaking.
If you name your daughter, Abigail, expect her to be a huge "daddy's girl."
A Rose by Any Other Name
No matter what name you choose, whether it's based on a biblical name or not, you're going to have a beautiful baby girl and she will be special because she is a gift from God, and she is yours!
©iStock/Getty Images Plus/KMNPhoto
---
Molly Law is the Editor of Christianity.com. She has a Master of Arts in Publishing Studies from the University of Stirling UK, where she studied and lived for a year in Scotland. She has a Bachelor of Arts in English Professional Writing from Gardner-Webb University. Her editorial career includes Senior Editor of a bimonthly magazine for the American Correctional Association, Editorial Assistant at Luath Press in Edinburgh, and Freelance Journalist for the News Virginian. She enjoys reading 18th-century British Literature, creative writing, and traveling.