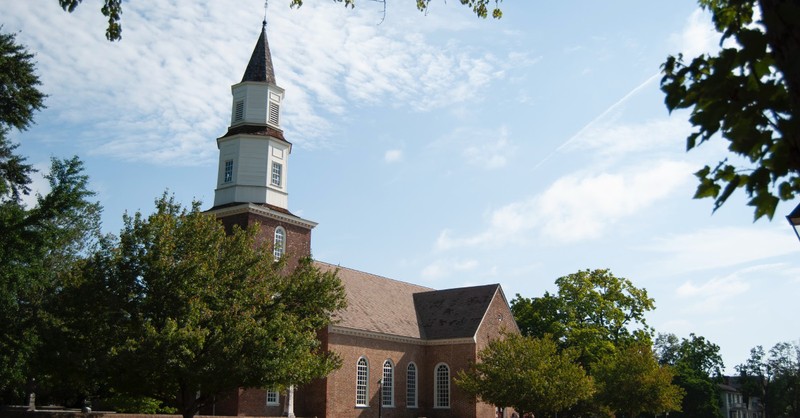 I used to know where every person in my small congregation sat on Sunday mornings. Out of years-long habit, each member would gravitate toward a familiar pew, week after week placing their Bible and belongings in exactly the same spot. We'd tease each other about our "assigned seats," but, really, nobody wanted to move. The third row on the left or that final seat against the back wall just felt right. We got used to the way the singing sounded from that spot, we brought a sweater to guard against the draft from that leaky window, and we liked the view of the pulpit that seat afforded.
What's more, other people could count on us being there. If someone had a question for us—or a borrowed book to return—they knew they could find us in our usual seat. If illness or travel kept us from being there, congregation members would remark about how empty our corner seemed. That seat was more than just a seat. It was our unique stake—our own little piece of real estate—in the assembly. Of course, it's different now. Many spots have been empty for months because it's not safe for particular members to return. The rest of us have been shuffled around by roped-off pews and six-foot markings in order to comply with our state's social distancing requirements. Nobody sits in their usual seat anymore.
My own new seat (in a makeshift row set perpendicular to the rest at the very front of the room) feels very temporary. Sure, I'm sitting there for now, but I don't want to commit forever. I suspect many of us—our ordinary church habits upended—feel similarly about all of church life. Church in a time of COVID feels temporary. We may be sitting somewhere for now, but it's hard to commit. In this season of upheaval, and even if we can't safely be physically present with our congregation, it's important to remember that we still have a stake in the local church. Our investment there—of time and prayer and resources—is just as vital as it was in years past.
Here are four reasons to keep investing in your local church:
1. God Still Commands It
The testimony of all of Scripture is that God gathers his people for his glory and their good. From Adam and Eve in Genesis to John's vision of the heavenly multitude in Revelation, God intends for his people to be together—to live for his glory, to love one another, and to worship him. The Old Testament people of Israel assembled before God's face to practice obedience to him and worship him at his command. The believers in the book of Acts "devoted themselves to the apostles' teaching and the fellowship, to the breaking of bread and the prayers" (2:42). In the entire Bible, there are no lone Christians. Although committing to your local church may feel strange right now, it is no less an act of obedience to the God who made you and takes care of you. "The Lord loves the gates of Zion more than all the dwelling places of Jacob" (Ps. 87:2), and when we love his church, we are loving what he loves. God designed each one of us to be part of his people.
2. Your Fellow Christians Still Need You
In his letter to the church in Corinth, the apostle Paul describes the church as a body with many parts. Each part—an eye, a foot, an ear—serves a specific role in the body to contribute to the functioning of the whole. No part can dismiss another part as unnecessary, and no part can excuse himself on the grounds that he wouldn't be missed. So, too, each member of the church is essential for the flourishing of the whole congregation. "God arranged the members in the body," writes Paul, "each one of them as he chose" (1 Cor. 12:18).
In a season of upheaval, you may feel like your presence at a Zoom Bible study or in the back row of the overflow room is negligible. You may feel like your gifts are going to waste since your favorite ministry has been canceled or your small group isn't meeting anymore. But your fellow Christians still need you. They need your presence, your prayers, your love, your example, your encouragement, and your exhortation—in whatever way you can give them. Even in a pandemic, you are an essential part of the body.
3. Your Soul Still Needs It
It's popular these days to think of faith as a purely private matter, of religious conviction as an individual choice, and of worship as something people do best on their own. It's especially convenient to believe this in a pandemic. But this is not the testimony of Scripture. In fact, the Bible tells us that the life of the local church is one of the things our souls most need. In the church, we join a company of God's people who teach us about our Lord, uphold us with their prayers, encourage us by their godly example, and care for us in love. Also, in the church our souls are placed under the watchful care of shepherds—pastors and elders—who look out for our spiritual good (1 Pet. 5:1­-3).
What's more, as we worship with God's people, we experience the presence of Christ. "For where two or three are gathered in my name," promised Jesus, "there am I among them" (Matt. 18:20). When we gather at God's invitation, worship at his direction, submit to his will, and exalt his name, Christ promises to come among us by his Spirit. In every meeting of his church, Jesus is present. Our souls can't afford to miss it.
4. Your Unbelieving Neighbors Still Need It
The local church doesn't exist merely to serve its members. Instead, it stands as a lamp on a table or a city on a hill, a warm and luminous invitation to all who pass by (Matt. 5:14-15). Among our unbelieving neighbors, our commitment to the local church is a significant testimony. Our week-by-week unity in worship declares that God exists and that he has redeemed us to be his own (cf. John 17:21). A parking lot full of cars or a soccer field full of worshippers is an open invitation to our community: Come, and see.
As upended as we may feel by the current crisis, our unbelieving friends and co-workers are even more shaken. Without the hope of Christ, what hope does anyone have? And at this precise moment, our local churches have an opportunity to help the needy, welcome the outcast, comfort the fearful, and hold out gospel light to everyone who is walking in darkness. As we commit to loving one another within the church, we can then welcome our neighbors to also experience the love with which Christ first loved us.
These days, you may be sitting in a new spot at church or mourning the loss of a beloved church member. You may feel disconnected from your church family—or even from your God. Now, more than ever, it's tempting to pull back. But the Lord calls us to press in. And in his presence, among his people, there is fullness of joy.
Photo credit: ©Sparrowstock
Megan Hill is the author of several books, including A Place to Belong: Learning to Love the Local Church. She serves as an editor for The Gospel Coalition and lives in Massachusetts where she belongs to West Springfield Covenant Community Church.