March 23
Demas's downfall
Epaphras, my fellow prisoner in Christ Jesus, greets you, as do Mark, Aristarchus, Demas, Luke, my fellow laborers. Philemon 1:23-24 (NKJV)
It's part of the devil's agenda to distract us from eternal issues by getting us to love earth more than Heaven. And over the centuries, he's used this tactic to take down many who seemed utterly incapable of turning their backs on the Lord.
Demas was one such example. He's mentioned three times in the New Testament, each time by Paul in his letters. We can deduce that Demas had ministered alongside Paul, because he's identified as a "fellow-laborer" in the Book of Philemon. He's also mentioned as one of Paul's companions in the Book of Colossians (4:14), which scholars believe Paul wrote while imprisoned in Rome.
So Demas seems like a solid spiritual soldier at this point. He's actively serving alongside Paul, and he's even there during the tough times of imprisonment. But fast forward just a few years, and we see Paul's third and final reference to Demas:
Demas has forsaken me, having loved this present world… (2 Timothy 4:10 NKJV)
Now imagine the kind of life Demas had lived. He was out there on the front lines, sharing the gospel in foreign territory, witnessing mighty miracles, and being within constant earshot of Paul's teaching! You'd never guess that he would one day forsake the faith. At first, not even Paul anticipated this.
Yet Demas did forsake the faith, and we know why he did. In keeping with the devil's attempt to distract believers from eternity, Demas fell in love with this present world. We don't know exactly how it happened. But somewhere along the way, the coin flipped, and earth's enticements won him over.
Our response to Demas' downfall shouldn't be insecurity, but rather sobriety. Our God is able to keep us from falling, but we need to be wise in watching over our heart's affections and examining whether they're pointed towards earth or eternity.
Think About It…
What does this passage reveal to me about God?
What does this passage reveal to me about myself?
Based on this, what changes do I need to make?
What is my prayer for today?
SPECIAL OFFER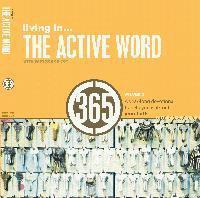 God's mercy is new every day. That's because it's needed
daily
. So to help you walk through a fresh new day, the Active Word has put together this second volume of the 365 Devotional.  Our hope in creating this series of devotionals, is to help you connect with God's Word 365 days a year. And the best thing is, you can start any day of the year. Stay in step with God's Word, His will, and learn to live out your faith, daily.