December 22
No neutrality
But he who sins against me wrongs his own soul; all those who hate me love death." Proverbs 8:36 (NKJV)
The entire eighth chapter of Proverbs is a personification of the wisdom of God. It reveals the multi-faceted nature of the Lord's wise counsel in a variety of ways. It cries out to those who need it. It brings righteousness and obliterates wickedness. It enables rulers to rule. It's found by those who seek it. The chapter goes on and on to describe wisdom from every angle.
But notice how the chapter ends, "But he who sins against me wrongs his own soul; all those who hate me love death." In other words, if you don't embrace God's wisdom, you're going to embrace spiritual death. You either live by it or die without it. There's no other option; there's no neutral ground.
That's a strong statement and one that doesn't fit into our culture of political correctness. If this Proverb were written today, it would probably be softened up a bit: "God's wisdom is great, but if you disagree with it or it doesn't work for you, that's okay, too. If you find something else that works for you, more power to you. Live and let live."
Again, that would be our society's spin on the subject. But God's Word spells it out the way it really is. His wisdom is not something people can afford to take or leave. It's a matter of life or death, literally. We don't have the option of being neutral toward it. A decision must be made, because a destiny will be determined.
That's an important truth to treasure. And not just for our own sake, but also for the sake of those around us who don't have or understand the importance of God's wisdom. Make sure you take a stand and share with others what's at stake.
Think About It…
What does this passage reveal to me about God?
What does this passage reveal to me about myself?
Based on this, what changes do I need to make?
What is my prayer for today?  
SPECIAL OFFER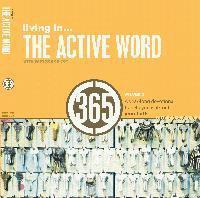 God's mercy is new every day. That's because it's needed daily. So to help you walk through a fresh new day, the Active Word has put together this second volume of the 365 Devotional.  Our hope in creating this series of devotionals, is to help you connect with God's Word 365 days a year. And the best thing is, you can start any day of the year. Stay in step with God's Word, His will, and learn to live out your faith, daily.