August 22
Rule of restoration
Jesus said to him, "Assuredly, I say to you that this night, before the rooster crows, you will deny Me three times." Matthew 26:34 (NKJV)
Jesus saw it coming. He saw how Peter, His most devoted and dedicated disciple, would openly deny Him three times when the heat was turned up. For Peter, this was unthinkable. "There's nobody more devoted to You than me! I'd die before doing something like that! No way will that ever happen!"
It did. And Peter was devastated. Sometimes we do things that even surprise ourselves, and this was one of those moments for Peter. He was ashamed and shaken to his core. Even after Christ revealed Himself as being resurrected from the dead, Peter's guilt must have gnawed away at his heart. Their relationship had been wounded and required restoration.
Now, a few days later, Jesus initiates an interesting exchange with Peter. He takes him aside and asks Peter three times if he loves Him. And each time, Peter affirms his love for the Lord (John 21:15-17).
Why did Jesus do that? We can't miss the significance of the number three. It's as though Christ is giving Peter three opportunities to erase his denial. "Peter, we both know you denied me three times, but let's replace those denials with affirmations of love." By doing this, Jesus took a strong step in restoring their relationship.
Here's the lesson we take away from all this: Jesus pursued restoration. He knew His disciple was cut to the heart by what he had done, but He didn't twist the knife or make him suffer for it. He didn't cross His arms and glare at Peter. Instead, He did what He could to make things right.
Relational rifts are inevitable in life, but when they take place, we need to take our cue from Jesus. We need to remember what He did with Peter and follow His rule of restoration.
Think About It…
What does this passage reveal to me about God?
What does this passage reveal to me about myself?
Based on this, what changes do I need to make?
What is my prayer for today?
SPECIAL OFFER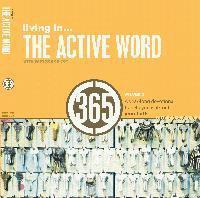 God's mercy is new every day. That's because it's needed
daily
. So to help you walk through a fresh new day, the Active Word has put together this second volume of the 365 Devotional. Our hope in creating this series of devotionals, is to help you connect with God's Word 365 days a year. And the best thing is, you can start any day of the year. Stay in step with God's Word, His will, and learn to live out your faith, daily.