May 29
Patience
"The Lord is not slow about His promise, as some count slowness, but is patient toward you, not wishing for any to perish but for all to come to repentance."
Oftentimes, once God has saved us, like children, we want everything instantly.  We want our needs met without waiting and we want all our problems solved.  We want answers before the question even arrives!  Patience is not an attribute I would use to describe our generation.  We fuss when our computer is running slow or the internet isn't instantly pulling up what we have googled.  And heaven forbid if we have a dropped call or don't have phone reception where we are.  We even have the internet on the go.  We can order lunch out while updating our Facebook status!  There is not much room for patience today because a lot of the time it isn't a necessary commodity. 
Have you ever grown impatient with God because He had not answered you or given what you had asked for?  Is there anything that you feel God has been unfair in asking of you?  Have you ever been angry or hurt with God because He took something precious away from you?   Do you blame God for the hurts of your heart or the situation of your life right now?   Was there ever a time in your life, an event, a loss, etc., when you feel as though God put on you more than you could bear?  Do you feel God has ever acted in a way toward you that wasn't in love?  Do you have any unforgiveness toward God because of a loss you have suffered?  Do you feel God needs to explain something to you?  I have, precious one, sad to say, but there have been times when momentarily I was angry or hurt with God because of unanswered prayer or even a loss suffered. 
As much as I would sometimes like for Him to, God doesn't operate on the level of the flesh.  His ways are much higher than mine, ours, and unfortunately He doesn't consult us in the planning process.  God desires to raise us up to be a spokesperson born from Proverbs 3:5 which says…Trust in the Lord with all your heart, And do not  lean on your own understanding."  God wants us to trust Him completely.  But places of absolute trust are only discovered in those places when we have no other resources to draw upon, no way of escape, and no other sources given. 
Trust needs a spokesperson.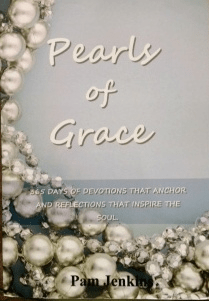 Pearls of Grace Devotional Book
Pearls of Grace is a book of devotions for the entire year, including a read through the Bible in a year calendar, broken down for every day. Beautifully written with encouraging words of hope and empowering words of joy and strength for every woman. Pam draws from the truth and richness of God's Word and gives real life examples in her down to earth style. A must have in your library, click here for more information.          
For more from Pam Jenkins and Jabbok Ministries, please visit www.jabbokministries.com!
Listen to Pam Jenkins's daily broadcast on OnePlace.com.