June 7
"For I am confident of this very thing, that He who began a good work in you will perfect it until the day of Christ Jesus."
Jesus, how mighty You are to save! 
Your love knows no bounds and it will seek out the vilest of sinners, such as I, and draw them with loving-kindness unto Yourself.  Bless You Lord for Your amazing eternal salvation.  When I was dead in my trespasses You redeemed me and cleansed me from all my unrighteous acts.  My sins which were as scarlet are now as white as snow; Praise You Jesus.  Thank you for drawing me with tender mercies that I might be Your very own forever and ever. 
I confess my righteousness is in You and not in anything I can do or will do.  The only good in me is You Lord…only You.  I am so grateful for Your love and for my salvation.  Because of You I have a future now and it is safe and secure.  There is nothing I have done or will do that can separate me from You and I rest in the security I have in You.  When everyone else gave up on me You never did so I adorn myself with Your confidence and most of all your abundant grace knowing that in Your eyes I am most beautiful. 
I am confident in this very thing Lord, that it is You that began this great work in me and You will not let up or give up on me until You have made me into Your likeness in all things.  I am Your masterpiece of love and affectionately you are molding me and making me into a reflection of Your beauty.  I don't want to be beautiful in the world's eyes Lord, I want to be beautiful in Your eyes when You look upon me.  Robe me in Your glory today and polish my character until it shines with Jesus.  You are a faithful Potter and am so thankful that you did not throw this clay away when You had ever right too. 
When I fall, you pick up my shattered pieces and You begin anew making me into a vessel of honor.   I love You Jesus and I know that You are with me even now and will be all of my days.  You are working even now in every circumstance of my life be it good or bad to make me into the woman you would have me be.  I surrender my heart completely and I ask You to imprint me with Your likeness so this clay will cry out your glory.  Thank you for life Father God and for those You have given to me to walk this journey of life.  Keep them in Your hands of grace and protection today. 
In Jesus name I pray and thank Thee.
Amen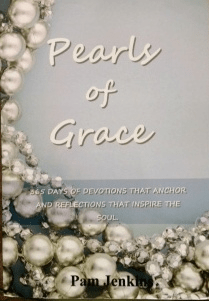 Pearls of Grace Devotional Book
Pearls of Grace is a book of devotions for the entire year, including a read through the Bible in a year calendar, broken down for every day. Beautifully written with encouraging words of hope and empowering words of joy and strength for every woman. Pam draws from the truth and richness of God's Word and gives real life examples in her down to earth style. A must have in your library, click here for more information.          
For more from Pam Jenkins and Jabbok Ministries, please visit www.jabbokministries.com!
Listen to Pam Jenkins's daily broadcast on OnePlace.com.