June 6
The Fruit of Mercy
"Yet for this reason I found mercy, in order that in me as the foremost, Jesus Christ might demonstrate His perfect patience, as an example for those who would believe in Him for eternal life."
I Timothy 1:16
The unfathomable depth of mercy's ocean will never be plummeted by the human heart, but will always leave it shrouded in awe and utter wonder. The heart longs to know and grasp with chambers hand the reason that mercy came to its door.  Mercy pours out freely and fully abundant on every man, woman, and child, for it has come forth from God's own hand, loosed at His bidding.  Mercy Himself clothed you with Jesus that He might show His beauty and perfection to a dying world, and in the showing save it.  How will the world know of God's rich abundant grace and forgiveness, and His everlasting love if He had not loved the sinner wretched and vile.  You are the view of the heart of God in the world's eyes, for the world had never gazed upon the mercy seat until Jesus was laid there for you.
Mercy is planted as a seed in the fertile soil of every heart that calls on the name of Jesus and bows the knee before His throne.  This life-giving seed of mercy will sprout and grow, and yield a fruit in its season under the watchful eye of the Heavenly Farmer.  He has lovingly planted and watered and watched with eager eyes every day of your life to see the white fields of harvest growing full and free.  That harvest will bear an eternal fruit, for the seeds found there will be planted in the fertile soil of yet another's heart that has never known the Farmers loving touch.   May your life be found scattered, broadcast into every life, every city, every county, every state, and every nation with every ounce of strength you possess until there is no ground left barren, no place left unsown. 
The sons of God shouted for joy when they first saw the field which you would fill.
"Great heart is dead they say; But the light shall burn the brighter, and the night shall be the lighter for his going; and a rich, rich harvest for his sowing."
                                                                                           --John Ozenham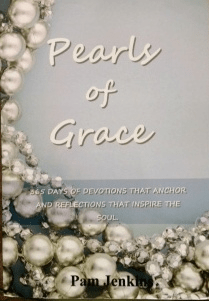 Pearls of Grace Devotional Book
Pearls of Grace is a book of devotions for the entire year, including a read through the Bible in a year calendar, broken down for every day. Beautifully written with encouraging words of hope and empowering words of joy and strength for every woman. Pam draws from the truth and richness of God's Word and gives real life examples in her down to earth style. A must have in your library, click here for more information.          
For more from Pam Jenkins and Jabbok Ministries, please visit www.jabbokministries.com!
Listen to Pam Jenkins's daily broadcast on OnePlace.com.