June 5
"The LORD is near to all who call upon Him, to all who call upon Him in truth."
Psalm 145:18
LORD,
I draw near with a heart assured of Your love and faithfulness to hear.  I empty all my cares down at Your feet because they are too heavy for me to carry.  You are my burden bearer and my stay in every situation.  Praise Your Holy name Father and blessed be Your Kingdom forever more.  I call upon You today for all my needs; for strength, might, compassion, love and guidance.  With my cry of truth You will draw near to me and I thank You.  I will not look to another for my help nor anything that concerns me.  I look only to Your hand precious LORD knowing that You hear me and will answer from Heaven.  Faithful are You Father in every situation and for every season of my life.  Forgive me for all the times I've forgotten to turn to You and thought in my weaknesses that I could help myself.  Forgive me for all my independent thinking that has turned my mind to my own ways and not Yours.  
I desire to remain dependent on You Father, so keep me needy, keep me humble and remind me of Who You are throughout my day lest I turn to the arm of the flesh for answers.   Keep me from concern of what others think or say of me for I know that You love me and nothing will ever separate me from You.  Keep me and Hide me in the cleft of the rock of the Most High God and I pray that You would cause all Your glory to pass before my eyes. 
Deliver me from every enemy, from every lofty thing that raises itself up against me.  Subdue ever foe, bring low every high place and set my feet on the level path.  Glorify Jesus in me today and shine ever bright for all those who are in darkness.  Fill my heart with joy, forgiveness, peace and love. 
Shelter me from the world's influences and expose every scheme and lie of the devil.  I love You and I entrust myself and those I love fully in Your hands of refuge.  You are my tower of glory and I run into You and I am safe.   Wash away every fear, all doubt and any thought that seeks to rob me of my joy today.   Praise You Father, Son and Holy Ghost. 
In Jesus name.
Amen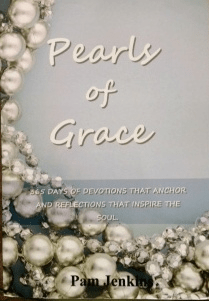 Pearls of Grace Devotional Book
Pearls of Grace is a book of devotions for the entire year, including a read through the Bible in a year calendar, broken down for every day. Beautifully written with encouraging words of hope and empowering words of joy and strength for every woman. Pam draws from the truth and richness of God's Word and gives real life examples in her down to earth style. A must have in your library, click here for more information.          
For more from Pam Jenkins and Jabbok Ministries, please visit www.jabbokministries.com!
Listen to Pam Jenkins's daily broadcast on OnePlace.com.