June 3
Learning to Drink
"Whoever drinks of the water that I will give him shall never thirst…"
There was a ship's crew that was half famished for water.  For many days they had gone without water.  Again and again, they signaled to a ship nearby, "Give us water, oh, please give us water!"  Each time the ship signaled back, "Dip down where you are."  This seemed like cruel mockery to the crew, but finally, in utter despair, they dipped down, and to their astonishment found they were in the mouth of the Amazon River, and they did not know it.  They were thirsting for fresh water and they were passing through them all along.  It had never dawned on these men to dip down into the waters they were traveling through and thus they had thirsted in vain.  
God knows how to direct us to rich springs even in the barren wilderness, and to life-giving waters even in the dry wastelands.  God doesn't bring us into the desert just to teach us how to find water, but rather to teach us to drink from those waters that are there. By nature we want to dip into the waters of foreign wells rather than from the springs flowing in our own homeland.  Dip down into the waters God has set your sails to cross.   
We're never thirstier than when we are in the dry desert places.   If we were never made thirsty, how would we ever learn to drink?  And if we never learn to drink, how would we ever taste of the living waters?  When one finds themselves in a spiritual desert with no sign of life, then they only need to drink deeply of Jesus, for whoever shall ask of Him, He has said He would give to that thirsty soul not a mere drink, but a fountain of living water.  Dip down where you are and draw upon the waters of life that only Jesus can give you.
He is the Eternal fountain that never runs dry.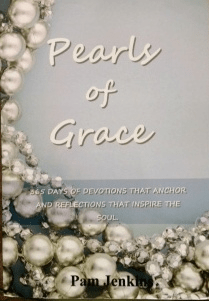 Pearls of Grace Devotional Book
Pearls of Grace is a book of devotions for the entire year, including a read through the Bible in a year calendar, broken down for every day. Beautifully written with encouraging words of hope and empowering words of joy and strength for every woman. Pam draws from the truth and richness of God's Word and gives real life examples in her down to earth style. A must have in your library, click here for more information.          
For more from Pam Jenkins and Jabbok Ministries, please visit www.jabbokministries.com!
Listen to Pam Jenkins's daily broadcast on OnePlace.com.