June 29
"In all their affliction He was afflicted, And the angel of His presence saved them; In His love and in His mercy He redeemed them, And He lifted them and carried them all the days of old."
Precious Jesus,
I fall before you with a heart full of love confessing you as my Lord and Savior.  I remember the day when I became betrothed to you; the day You claimed me as Your bride.  I was so lost Lord, so hopelessly lost.  I had ruined my life with the sins of the world.  I was so far gone from the Father I didn't know the way back home but You left the light of Heaven and journeyed into the darkness to search for me.  You refused to give up until you found me and gathering up the broken pieces of my life You carried me back to God. Every one of the stains of my sin you washed as white as snow through your precious blood poured out at Calvary.  You took my garments of shame and clothed me with robes of righteousness.  You adorned me as Your bride in radiant white.  
No one has ever loved me like You Lord… No one.   Your love for me is more beautiful to me than anything this world could ever give.  How I love You my sweet Jesus.  I love You with all of my heart. 
Your nail scared hands uphold me every day of my life sustaining me with mercy and unfailing grace.  Guard my heart from the influence of the world keeping it pure and holy devoted to You.  I set my affections upon You Lord because You are worthy.  Fashion my character after You making me a mirror image of Your nature.  I want to be like You Lord so I can be pleasing to the Father.   Every affliction I have suffered You have suffered with me.   There is nothing today, absolutely nothing that I will face without You.  You are with me all the way to the end therefore I am never alone.   Search my heart making for purity, love and peace.  Exchange every area that falls short of Your beauty with the might of Your character. 
Thank You for saving me.  You are my eternal song of praise O Lord therefore I will make my life a tribute to Jesus.  Lift up Your name today through me that You may be magnified above all.  I am so in love with You Jesus.  You will never let go of me Lord, I am forever Your captive.   To please You in all things is the utmost desire of my heart.  Thank You for being my Savior, my Lord and my life.  To You be all the glory. 
Amen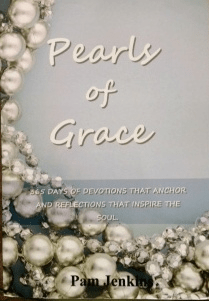 Pearls of Grace Devotional Book
Pearls of Grace is a book of devotions for the entire year, including a read through the Bible in a year calendar, broken down for every day. Beautifully written with encouraging words of hope and empowering words of joy and strength for every woman. Pam draws from the truth and richness of God's Word and gives real life examples in her down to earth style. A must have in your library, click here for more information.          
For more from Pam Jenkins and Jabbok Ministries, please visit www.jabbokministries.com!
Listen to Pam Jenkins's daily broadcast on OnePlace.com.