June 21
"Having loved His own who were in the world, He loved them to the end."
Jesus, you are my wonderful counselor, my friend and the One I cling to.
 I needed a Savior and You came to meet in my most desperate hour of need.  There are no words to describe You Lord, for none can capture Who You are.  Your name is Jesus; Emanuel, God with us, God with me.  When I was unlovable You loved me and when my heart was so full of sin You came that You might remove every stain.   You offered up Your life because You loved me and cared for me with a love that is matchless and everlasting.   My significance is found in You and in You I am clothed with raiment of white and royal robes of grace.  Fight my battles for me today O Lord and cause me to stand in the mighty confidence that is found only in You.  I come to you as a child full of trust and hope in all that You are and have promised to be for me.   Because of You I can run straight to the throne of an all-powerful God, and Father.  I can pour my heart out before the Mighty One knowing He loves me and holds me in the palm of His hand.   I am accepted in the Beloved, betrothed to the King of Kings. 
I adorn myself with praises to You Lord and I crown my head with the radiance of Your splendor.     You have placed the spirit of the Living God within me therefore I am able, capable, strong, valiant, powerful, holy and full of purpose for living.  My soul is the lodging place of grace, mercy, forgiveness and totality of security.   Within the walls of my soul You have enclosed all that You are claiming it as holy ground.  I am Your dwelling place O Lord and I am forever Your captive.  Unleash the fullness of Your glory in my life.  Give the honor due You in every word I speak, every thought absorbed and every feat performed through my life.  
Immerse my time in eternity teaching me to number my days.  Make this day count for Heaven that I might not live for myself but for You.  Overshadow every step, every breath, every heartbeat of today enlarging Who You are in the eyes of the world.   Shake the foundations of hell Lord and break lose in my life in a fresh and powerful way.   Awaken the Church from its slumbering state and sound the war cry!  The Day is drawing nigh!  Praise You Jesus forever more. 
Bring low every enemy in Your name I pray. 
Amen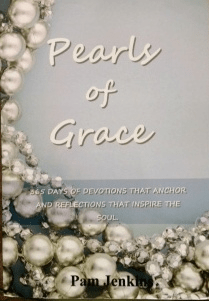 Pearls of Grace Devotional Book
Pearls of Grace is a book of devotions for the entire year, including a read through the Bible in a year calendar, broken down for every day. Beautifully written with encouraging words of hope and empowering words of joy and strength for every woman. Pam draws from the truth and richness of God's Word and gives real life examples in her down to earth style. A must have in your library, click here for more information.          
For more from Pam Jenkins and Jabbok Ministries, please visit www.jabbokministries.com!
Listen to Pam Jenkins's daily broadcast on OnePlace.com.