June 17
"Only be very careful to observe the commandment and the law which Moses the servant of the LORD commanded you, to love the LORD your God and walk in all His ways and keep His commandments and hold fast to Him and serve Him with all your heart and with all your soul."
Lord I run into Your presence because I love You and I want to be near You today.  I want to begin this day by bathing my soul in all that You are.  I hold fast to You and my soul clings to You promises because they are faithful and sure to each generation that sets their hope in them.  I praise You Father for You are good to me and have never disappointed me when I have put my trust in You.   You know all the burdens of my heart and all that captivates my thoughts today.  You know my past and my future and all my ways are before You.  Nothing of me is hidden in Your sight Oh God and yet You love me still.  Thank you for Your steadfast patience with me and for the grace and mercy You have extended over and over to me, each a time as if it were the first.  You are worthy of all my praise and praise You I do! 
Take my feet today and the will of my soul and implant them in the paths of righteousness for Your name sake.  Direct each step I take making it sure to the ways of God and give me a willing spirit to adhere to You and not another.  Set a fear in my heart in turning away from You Holy Commandments so I will walk in a manner pleasing of You.  I set my desire to serve you today with all of my heart and with all of my soul.  I adorn my life with the power I have in Jesus and with the all the strength and might of Heaven which has been stored up for me.
I draw from the well of Jehovah this morning drinking deeply the truth of all that You are.  I fill my mind with thoughts of You and I clothe myself in the beauty of Christ.  Tuck me beneath Your shadow Almighty God and bear me upon the wings of Zion that I may soar above the things of the world.  I am Yours Father and You are mine.  Take all of me today and have You way in me.   Today is a gift from Heaven and I embrace it as such that I may live for You in full measure.  
Thank You for all that You have done for me.  In Jesus name!
Amen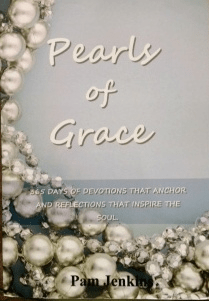 Pearls of Grace Devotional Book
Pearls of Grace is a book of devotions for the entire year, including a read through the Bible in a year calendar, broken down for every day. Beautifully written with encouraging words of hope and empowering words of joy and strength for every woman. Pam draws from the truth and richness of God's Word and gives real life examples in her down to earth style. A must have in your library, click here for more information.          
For more from Pam Jenkins and Jabbok Ministries, please visit www.jabbokministries.com!
Listen to Pam Jenkins's daily broadcast on OnePlace.com.