June 12
Born To Be Free
"For you were called to freedom…"
>Galatians 5:13
There are monkeys who live in the South Sea Islands who are constantly taken captive because of their own desires.  The captors have found that if they will drill a small hole in the coconuts, leaving just enough room for the monkeys to squeeze their hands through, they can capture them very easily.  You see the captors place food inside these coconuts, and when the monkeys reach in and take hold of the food, they find that they cannot remove their hands for they are too big to go back out of the hole when their hands are in a fist.  All the monkeys have to do is let go of the food and they would be free, but instead they hold on to it, and are then trapped for the captors to come and take at will.  These monkeys are held captive by their own desires. 
How often do we find this same problem in our own lives;  a desire, a dream, bitterness, or a thought or idea, an addiction that we refuse to let go of only to find ourselves enslaved in the end when all we had to do was just open our hands and let go of it.
The things we reach for and even grab hold of are too often not what God intends for us to have at all.  If it enslaves us, then it is not of God.  God never intended to free us only to have us bound in chains of slavery to another.   Have you heard the saying; "locked doors are locked from the inside?" This is true in our lives.  The only doors of slavery that we are trapped behind are the doors we lock ourselves from the inside, and we are the only ones that can open them back up again.  
Freedom was given to you in Christ, and slavery is found only when one embraces another.  What are you holding on to that God never intended for you to reach for?  What are the things that have you bound?  Freedom is found in letting go, in complete surrender, and in utter abandonment.  God meets us at our point of obedience, and disciplines us at our point of rebellion.   There are seasons in our lives of letting go, and there are seasons of embracing.  You cannot embrace God if you are holding on to anything or anyone else.  Only empty hands are free to grab hold of God.
Your hands were meant to cling only to Him, completely and unreservedly.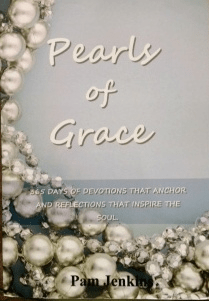 Pearls of Grace Devotional Book
Pearls of Grace is a book of devotions for the entire year, including a read through the Bible in a year calendar, broken down for every day. Beautifully written with encouraging words of hope and empowering words of joy and strength for every woman. Pam draws from the truth and richness of God's Word and gives real life examples in her down to earth style. A must have in your library, click here for more information.          
For more from Pam Jenkins and Jabbok Ministries, please visit www.jabbokministries.com!
Listen to Pam Jenkins's daily broadcast on OnePlace.com.