July 5
God's Purpose Will Prevail
 "…who has saved us, and called us with a holy calling, not according to our works, but according to His own purpose and grace which was granted us in Christ Jesus from all eternity…"
II Timothy 1:9
Whom God saves He also calls. You cannot separate the saving of God from the calling of God, for His call will always follow His saving.  It's not just any calling, but rather it is a holy calling.   Flesh cannot fulfill it because it was birthed by holiness and it is to grow and mature in holiness.    It's a calling to be revered and lived out in fear and trembling before the Lord, for the responsibility given is one that will count for eternity, long after the service has ended.   This calling is an ambassadorship afforded us to reveal the Holy One to the world in flesh and blood, for it is hidden in earthen vessels.  So rare, so marvelously intriguing, so gloriously beautiful are these callings, that God Himself commissions them.  He doesn't send an angel, but rather He comes Himself, for it is a most personal bidding to be on assignment for the King.     
It's never according to the works which we have done, or even are capable of doing, but it's according to one thing and one thing alone; the purpose God has.   God's perfect design is to bring Himself and His Son all glory and honor.  We cannot choose how we want to serve God, no matter how noble our intentions are, or even in human logic and earthly wisdom.  Often we mistake our talents as a road sign to service.  We cannot look at ourselves and pattern God's purpose after our own lives, our own desires, our own plans.   His plans were "formed long ago, with perfect faithfulness" (Isaiah 25:1).  The word formed in this verse means:  "From a distant land". 
God will never call us to the familiar, but rather He will beckon us on to the regions beyond, to the distant and unfamiliar lands.  It is here that we must trust, surrender, and fully abandon ourselves unto His purpose.  It's setting our sails to the land unseen, to shores we have never trod.  We're just the passengers aboard the Mighty One's ship.   
Set My Sails Toward The Lands of Your Glory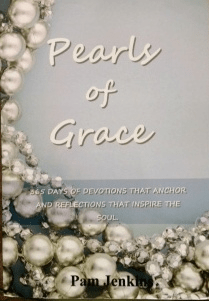 Pearls of Grace Devotional Book
Pearls of Grace is a book of devotions for the entire year, including a read through the Bible in a year calendar, broken down for every day. Beautifully written with encouraging words of hope and empowering words of joy and strength for every woman. Pam draws from the truth and richness of God's Word and gives real life examples in her down to earth style. A must have in your library, click here for more information.          
For more from Pam Jenkins and Jabbok Ministries, please visit www.jabbokministries.com!
Listen to Pam Jenkins's daily broadcast on OnePlace.com.