July 25
The Price of a Soul
 "I will most gladly spend and be expended for your souls."
Charles Cowan, one of the world's greatest missionaries and truly one of God's most relentless soldiers went into the battlefields of souls through the hills of Japan.  He was a life that steadily burned itself out with every bit of ebon strength that it might reach every soul with the good news of Jesus Christ.  He was a tireless worker who once he set his hand to the plow of God never looked back. During his last months of life when he was no longer physically able to work his Father's beloved fields, his wife, Lettie, walked in to find him with a map of the orient spread out upon the desk, his face buried in his hands weeping bitterly for the lost souls there.   As he sobbed he cried these words:
"Let me go back! I am homesick for the land of my love and toil
though I thrill at the sight of my native hills, the touch of my native soil.
Thank God for the dear home-country, unconquered and free and grand!
But the far off shores of Japan for me are the shores of my Promised Land.
"No longer young- I know it- and battered and worn and gray
I bear in my body the marks that tell of many a toil-filled day
But 'tis long to the end of a lifetime and the hour for the sun to set;
My heart is eager for years to come; Let me work for the Master yet!"
Precious are the tears that fall upon the fields of God's harvest.  Where is the urgency of the hour, beloved?  How many tears are shed for the lost souls of this world?  What place does reaching the lost hold in your life?  This responsibility was left to us precious friend.  We must take up the torches of those who have long since burned out fighting the good fight of faith.  A Japanese statesman once said; "We do not worship our Emperor; we love him.  If you Christians loved your God as we love our Emperor, you would long since have taken this world for Him."  May we say with  Paul, "And thus I aspired to preach the gospel not where Christ was already named, …" (Romans 15:20)  May this be true of our lives, precious friend.  A life that burns away unreservedly in the lantern of God will be the brightest light the world will ever know.      
Take all my ambitions and burn them away until all that is left are yours.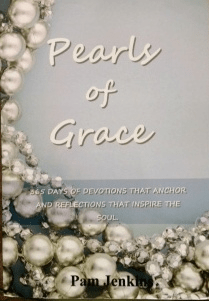 Pearls of Grace Devotional Book
Pearls of Grace is a book of devotions for the entire year, including a read through the Bible in a year calendar, broken down for every day. Beautifully written with encouraging words of hope and empowering words of joy and strength for every woman. Pam draws from the truth and richness of God's Word and gives real life examples in her down to earth style. A must have in your library, click here for more information.          
For more from Pam Jenkins and Jabbok Ministries, please visit www.jabbokministries.com!
Listen to Pam Jenkins's daily broadcast on OnePlace.com.