July 17
Loving God to the Fullest
 "You shall love the Lord your God with all your heart, and with all your soul, and with all your mind."
These are the words of the Lord Himself telling His beloved disciples how to love the Father.  My prayer for years was, "Lord teach me how to love you with my life."  This was His answer to me and to any of us who have a heart to love God.  We don't love Him with what we give, what we accomplish, the time we give at church or to a ministry, or how much we pray or do good to others.   While all these areas are noble and are all acts of kindness, Jesus tells us that loving the Father goes to a much deeper level than outward acts of service or sacrificial giving.
Jesus said we are to love the Father with all of our heart.  To the Hebrews this was understood as meaning one's whole being.  It's not loving in part but with the whole of one's life.  We are to love Him with all of our personality; our entire make up.   In other words, if I am loving God with all of my heart there will be no area of my life that will not reflect my love for Him.  Powerful loving, isn't it?  But God deserves nothing less.  But the wonder of understanding this comes when we realize that God has loved us with His whole being!  There is no part, or character, or act of God that will not reflect His love for us. 
Second, we are to love God with all of our soul.  The word soul means emotions.   Have you ever seen someone so exuberant for the Lord with their love?  They radiate it upon their countenance. They are very expressive with their love for the Lord.  This is what Jesus meant.  Loving God with all of our heart, with all of our soul will affect our emotions.  No one is drawn to dead religion!  With all of our affections we are to lavish our love unashamedly upon God..  The heart that is in love with God will be a joy that will flow out in praise and adoration;  "out of the heart flow the issues of life."  You can't hide what's in your heart, good or bad, beloved.  What flows out of your heart?  What do people see when they look into your eyes?  What does your countenance reflect? 
Thirdly, Jesus said we were to love God with our entire mind.  The word mind in the original language speaks of might, it speaks of our strength and energy and our intellectual commitment.  I've witnessed those who seem to love God with their minds only but not in soul, not with their emotions.  But I've also seen those who love God in emotion only and lack the intellectual commitment, the strength and might that is also needed.  To love God with all of our heart, with all of our soul and with all of our mind means keeping nothing for ourselves, surrendering our affections, our thinking, our very lives to please the One we love! 
May I love you more today than I did yesterday.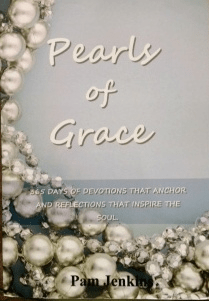 Pearls of Grace Devotional Book
Pearls of Grace is a book of devotions for the entire year, including a read through the Bible in a year calendar, broken down for every day. Beautifully written with encouraging words of hope and empowering words of joy and strength for every woman. Pam draws from the truth and richness of God's Word and gives real life examples in her down to earth style. A must have in your library, click here for more information.          
For more from Pam Jenkins and Jabbok Ministries, please visit www.jabbokministries.com!
Listen to Pam Jenkins's daily broadcast on OnePlace.com.