July 14
Waters of Patience
"Now there is in Jerusalem by the sheep gate a pool, which is called in Hebrew Bethesda, having five porticoes.  In these lay a multitude of those who were sick, blind, lame, and withered, waiting for the moving of the waters…There lay a man  who had been ill for thirty-eight years."
>John 5:2-3 & 5
Thirty-eight years of sickness will not only test your patience but it will bring hopelessness and despair.  We can easily tire under the hand of sickness and when placed into situations that are out of our control and beyond the reach of others.   Every year an angel of the Lord would come and stir the waters of this pool in Jerusalem.  The first person to step down into the waters afterwards would be healed of their sickness.  It doesn't tell us they had to immerse themselves completely, they only had to step in.  Just a step into the moving waters would set them free from their bondage.  It doesn't sound too difficult right?  But it was an impossible task for a man that was so sick he had to depend on the help of others to even make it to the waters.  It must have been mass confusion and desperation as each one fought to be the first one into the waters.  This man couldn't even make it to the waters so how was he ever going to be the first.    
God often allows us to sit in places of despair in order to teach us to look to Him for our deliverance.  He will allow others to fail us in order to become our hero.  No doubt this sick man was tired of waiting and weary of his sickness.  But his deliverance did not come the way he thought it would.  He was waiting on the waters to move, to change in order to be healed rather than waiting on the one who made the water!  He was looking to the arm of the flesh for deliverance.  Jesus came through and commanded the man to rise up and walk and he was healed instantly!  God didn't want to bring him to healing waters, he wanted to bring him the Living Waters.  He didn't want to remove his sickness, He wanted to give Him life, abundant life.  What good is healing without true life?  True life, at its best, will never be enough for the soul that has not come to know Jesus who was the way, the truth and the life.
I Peter 5:10 gives us a wonderful promise from God; "And after you have suffered for a little while, the God of all grace, who called you to His eternal glory in Christ, will Himself perfect, confirm, strengthen and establish you."
Take me to the Living Waters and raise me up to walk in newness of life.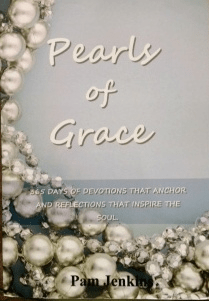 Pearls of Grace Devotional Book
Pearls of Grace is a book of devotions for the entire year, including a read through the Bible in a year calendar, broken down for every day. Beautifully written with encouraging words of hope and empowering words of joy and strength for every woman. Pam draws from the truth and richness of God's Word and gives real life examples in her down to earth style. A must have in your library, click here for more information.          
For more from Pam Jenkins and Jabbok Ministries, please visit www.jabbokministries.com!
Listen to Pam Jenkins's daily broadcast on OnePlace.com.