August 20
How Great Is God?
"How great is Thy goodness."
Psalm 31:19
How does one measure greatness? What instrument is there that can measure out the hollow of space that God carved to hold the great oceans of His seas? Where is the holding place of the wind and how can I capture it so it cannot escape again or return back home from whence it came? Who is that can count the grains of sand upon just one beach line out of the thousands that exist upon His great earth? Is there a man or woman who can take star out of its place in order to move it to another? Can even the greatest of doctors mend a broken heart? How far is the farthest point in our universe and who has been there before to know that it is the ending place? Who instructs the Eagle to stretch its wings and fly up high into the sky? And how does the turtle hatchlings know to head to the water when there is no mother to instruct them to do so?
Never out grow God! In fact, never grow up! It's boring and grownups think they have all the answers and can solve the world's problems over a good cup of coffee on a rainy day. Stay forever young with God; and yes that's a Rod Stewart song! (the forever young part anyway). We should never outgrow our childlike faith with God. In absolute simplicity and unending wonder we should approach God and the thought of Him every day. The Psalmist spoke from the faith of a child, full of awe and at a loss for words when it came to describing the goodness of God: "how great"! Two words is all he could summon from the depth of his heart of awareness of God.
When was the last time you took the time to breathe in all that God has done and given and is to you and your life? When we the last time the thought of God took your breath away? Have you been at a loss for words concerning your love and gratitude for God? Take the time to recount all His goodness every day and in the recounting of it all, find no words to adequately express your heart but…how great! He is great and His goodness is greater still. The smaller we are, the larger He becomes!
How great is He to one so small.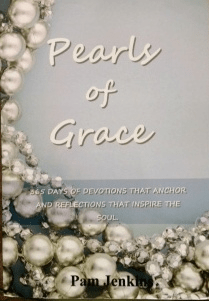 Pearls of Grace Devotional Book
Pearls of Grace is a book of devotions for the entire year, including a read through the Bible in a year calendar, broken down for every day. Beautifully written with encouraging words of hope and empowering words of joy and strength for every woman. Pam draws from the truth and richness of God's Word and gives real life examples in her down to earth style. A must have in your library, click here for more information.          
For more from Pam Jenkins and Jabbok Ministries, please visit www.jabbokministries.com!
Listen to Pam Jenkins's daily broadcast on OnePlace.com.