August 2
A Change of Plans is Not Necessary
"The counsel of the LORD stands forever, The plans of His heart from generation to generation."
Psalm 33:11
Every woman or man that God has used mightily upon the earth has been life-long students of God's Word. If we are not filling our hearts with His truth then what will we have to pour out upon those who are need of it? It's amazing to see so many struggling to accomplish the work of God through earthly wisdom, fleshly tactics. We ask God to bless us in our teaching, in our ministries but lack the love and study of His Word in our lives. Much of the work is being done apart from diligent study of God's words deeming it as unnecessary to succeed in ministry. But hear the words of the Apostle Paul as he instructs Timothy concerning the Word of God: "All scripture is inspired by God and profitable for teaching, for reproof, for correction, for training in righteousness; that the man (or woman) of God may be adequate, equipped for every good work." (2 Timothy 3:16-17 NASB)
Our adequacy, our equipping for every good work comes from Scripture. If we want our ministries to prosper then the Word of God is the answer, not better programs, methodology or more talented willing members. There is a hunger, a must have or I'll die urgency needed in Christendom today for the power of God's Word. God's Word is the lifeline of all we do, say or think. Until there is a love for Holy Scripture, we will not love God in the depths He is worthy of. God's Word is everything to us and to our living victorious lives and being effective in service to Him.
I'm in no way minimizing prayer because it is vital to the increase of God's Kingdom. But prayer without the Word is powerless prayer. The two must be combined. We can pray all we want but until we open up His Word and begin to breathe Him in through the study of His pages our praying will linger upon the floor upon which they were given. Listen to the heart of the Apostles when the Church of God was being birthed; "But we will devote ourselves to prayer and the ministry of the Word". (Acts 6:4) From the very beginning God has shown that His Word is necessary to bring forth life.
Have you courted His Word today?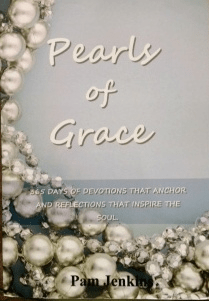 Pearls of Grace Devotional Book
Pearls of Grace is a book of devotions for the entire year, including a read through the Bible in a year calendar, broken down for every day. Beautifully written with encouraging words of hope and empowering words of joy and strength for every woman. Pam draws from the truth and richness of God's Word and gives real life examples in her down to earth style. A must have in your library, click here for more information.          
For more from Pam Jenkins and Jabbok Ministries, please visit www.jabbokministries.com!
Listen to Pam Jenkins's daily broadcast on OnePlace.com.