August 19
Rock Dweller
"…The Lord is my rock…"
There once was an American traveler who was in Italy when one day he stood watching a lumberman, who, as the logs floated down the swift mountain stream, occasionally jabbed his hook into one and drew it carefully aside. He said to the man, "Why do you pick out these few, for they all look alike?" The lumberman replied, "they all look alike, but they are not all alike, senior. The logs I let pass are grown in the valley where they have been protected all their lives. Their grain is coarse; they are good only for lumber. But, these logs, senior, grew on the mountains. From the time they were sprouts and saplings they were lashed and buffeted by the winds, and so they grew strong with fine grain. We save them for the choice work; they are not for lumber."
Missionary Warrior
When the Lord chooses us for some choice work of His, the devil will always try to thwart it. It's in these moments that God will make us and keep us as He beats and strips off everything that is of this earth, extracting the priceless from the worthless. When the enemy assails us, we must anchor in on the promises of God knowing He has called us and chosen us for this choice work and steady ourselves in the knowledge of Who He is. This is safe, because God is unchanging so the anchor of Him never moves. There will be those times of darkness when we must look to our feet and take careful note where they are planted. We must keep our lives in tune with the infinite at any cost. Hold steady through the midnight hour looking unto the Light for He will safely and faithfully lead His beloved out.
Make me a Rock dweller.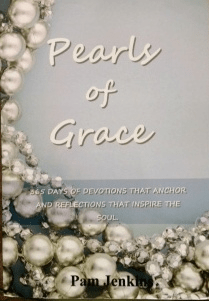 Pearls of Grace Devotional Book
Pearls of Grace is a book of devotions for the entire year, including a read through the Bible in a year calendar, broken down for every day. Beautifully written with encouraging words of hope and empowering words of joy and strength for every woman. Pam draws from the truth and richness of God's Word and gives real life examples in her down to earth style. A must have in your library, click here for more information.          
For more from Pam Jenkins and Jabbok Ministries, please visit www.jabbokministries.com!
Listen to Pam Jenkins's daily broadcast on OnePlace.com.