Do not cast me away from Your presence, and do not take. Your Holy Spirit from me. (Psalm 51:11)
After we commit a terrible sin, we feel that God won't have anything to do with us ever again. To answer this awful fear that all humanity shares, Jesus said, "Father, forgive them, for they know not what they do" (Luke 23:34) and "Eloi, Eloi, lama sabachthani?"—which means, "My God, my God, why have you forsaken Me?" (Mark 15:34). Jesus said this so that we may never have to pray it ourselves. What David feared in verse 11, Jesus endured. Nevertheless, because we are children of God, He will never abandon us to the consequences of our sin.
---
Be challenged by Romans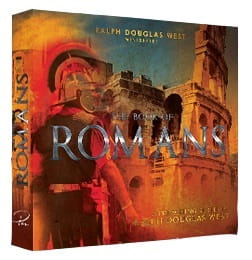 Romans doesn't let us sit still. In Romans, Paul talks about the obligation we are under to spread the truth of the Gospel and to engage with the culture around us. He talks about the journey we must make after we accept the God's gift of salvation. We are called to leave our comfortable and easy corners and spread the message of Christ's sacrifice to everyone around us, because we have been freely justified!