When I kept silent, my bones wasted away through my groaning all day long. For day and night your hand was heavy upon me, my strength was sapped as in the heat of summer. (Psalm 32:3 NIV)
In his book, The Whole Person in a Broken World, famed psychiatrist Dr. Paul Tournier says that many of his patients complained of all kinds of physical problems. Time after time, these symptoms would turn out to be the expression of some repressed guilt from years ago that had never been dealt with. But 3,000 years before Tournier, David described his awful illness eloquently in Psalm 32. Physically, he was feeling guilt's awful side effects. David had to confess his sin to be healed.
---
Be challenged by Romans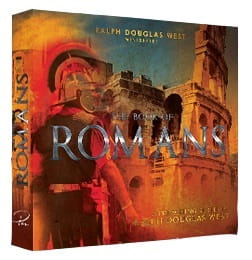 Romans doesn't let us sit still. In Romans, Paul talks about the obligation we are under to spread the truth of the Gospel and to engage with the culture around us. He talks about the journey we must make after we accept the God's gift of salvation. We are called to leave our comfortable and easy corners and spread the message of Christ's sacrifice to everyone around us, because we have been freely justified!