Blessed is the man to whom the LORD does not impute iniquity. . .(Psalm 32:1b-2)
The word "iniquity" means that there is something twisted in us that needs to be straightened out by the grace of God. There is something bent that needs to be unbent. There is something crooked that needs to be straightened. David's words suggest that he was looking into the face of his own human portrait, and it was hanging out of balance. He needed someone tall enough to reach it and straighten it out. We all need that; we need Someone greater than we are.
---
Be challenged by Romans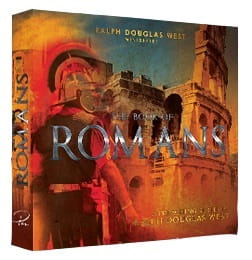 Romans doesn't let us sit still. In Romans, Paul talks about the obligation we are under to spread the truth of the Gospel and to engage with the culture around us. He talks about the journey we must make after we accept the God's gift of salvation. We are called to leave our comfortable and easy corners and spread the message of Christ's sacrifice to everyone around us, because we have been freely justified!