Then Moses said, "I will now turn aside and see this great sight, why the bush does not burn."  (Exodus 3:3)
How many bushes burn with fire, and you don't take the time to go and look? Most of us never encounter God as we might because when the bush burns, we turn away to the desert. But God still has taken the initiative in arresting us. It is up to us to respond. As the famed British poetess Elizabeth Barrett Browning perceptively wrote,
And every common bush afire with God;
But only he, who sees, takes off his shoes,
The rest of us sit around and pick dewberries.
---
Be challenged by Romans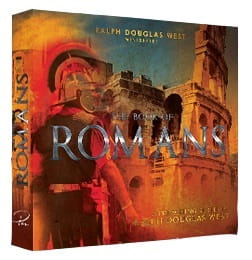 Romans doesn't let us sit still. In Romans, Paul talks about the obligation we are under to spread the truth of the Gospel and to engage with the culture around us. He talks about the journey we must make after we accept the God's gift of salvation. We are called to leave our comfortable and easy corners and spread the message of Christ's sacrifice to everyone around us, because we have been freely justified!