. . . nor of the arrow that flies by day, nor of the pestilence that walks in darkness, nor of the destruction that lays waste at noonday. (
Psalm 91
:5b-6)
The psalmist lists an inventory of catastrophes that God can deliver you from: secret, hidden danger; open, obvious danger;  threatening natural danger; and overwhelming supernatural danger. Moreover, God can shield you from danger at all times—under the darkness of night and in the midst of the day. You should live knowing that you're invincible until the Lord is finished with you. Of course, God's promise is no permission slip to intentionally place yourself in harm's way. But you can have confidence in the security He provides for you in every kind and time of danger that threatens you.
---
Be challenged by Romans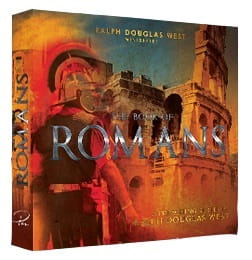 Romans doesn't let us sit still. In Romans, Paul talks about the obligation we are under to spread the truth of the Gospel and to engage with the culture around us. He talks about the journey we must make after we accept the God's gift of salvation. We are called to leave our comfortable and easy corners and spread the message of Christ's sacrifice to everyone around us, because we have been freely justified!