. . . blot out my transgressions. (Psalm 51:1)
David is saying, "I have revolted and rebelled against You. Blot it out." This act refers to the removal of a name or indictment from a ledger. It's a term used to refer to the cancellation of a written debt or an old account settled long ago. Likewise, for us there comes a time when there is something within us so messed up that God has to blot it out. And when God blots our sin out, even when we look for it, we cannot find it.
---
Be challenged by Romans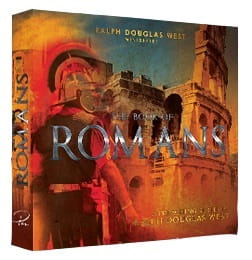 Romans doesn't let us sit still. In Romans, Paul talks about the obligation we are under to spread the truth of the Gospel and to engage with the culture around us. He talks about the journey we must make after we accept the God's gift of salvation. We are called to leave our comfortable and easy corners and spread the message of Christ's sacrifice to everyone around us, because we have been freely justified!