If I ascend to
heaven
, Thou art there; if I make my bed in Sheol, behold, Thou art there . . . . if I dwell in the remotest part of the sea, even there Thy hand will lead me.  (Psalm 139:8 NASB)
The psalmist ponders where he would have to travel to escape the presence of God. He imagines climbing to the mountaintop and then descending to the shadowy realm of the dead, but God is there. Then he imagines fleeing all the way to the Rock of Gibraltar, west of the Mediterranean Sea, where he finds Him. He concluded that there is nowhere to flee from God's presence. Look at Jonah, who was fleeing to Tarshish and was swallowed by a whale. He finally had to quit running and surrender to the will of God, and so must we.
---
Be challenged by Romans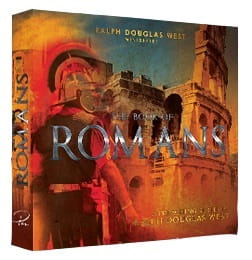 Romans doesn't let us sit still. In Romans, Paul talks about the obligation we are under to spread the truth of the Gospel and to engage with the culture around us. He talks about the journey we must make after we accept the God's gift of salvation. We are called to leave our comfortable and easy corners and spread the message of Christ's sacrifice to everyone around us, because we have been freely justified!